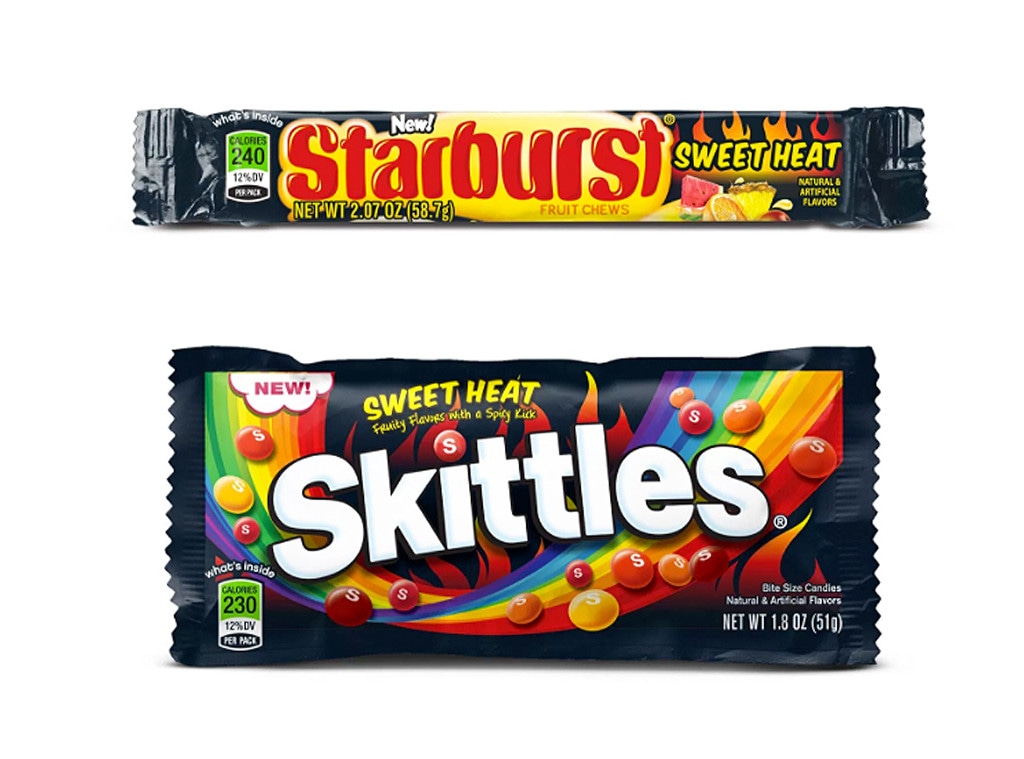 Wrigley Jr. Co./Mars
Let's get some of that sweet, sweet heat!
Sweet and spicy is all the rage these days when it comes to food trends, and candy companies are hopping on the fiery bandwagon. Earlier today, both Skittles and Starburst debuted spicy versions of their beloved candies, called Skittles Sweet Heat and Starburst Sweet Heat, at the annual Sweets & Snacks Expo in Chicago—and the Internet has lit up with approval. 
That's not the only candy company kicking things up in the heat department, Hotheads Extreme Heat Worms from Impact Confections will soon be available in original and tropical varieties.
Things are really en fuego in the Windy City! 
According to Food Business News, at the confection convention, Susan Whiteside, vice-president of public relations and marketing communications for the National Confectioners Association, said, "From flavors like honey sriracha to mango chipotle, confectioners and snack manufacturers both are increasingly turning to sweet to balance out hot, spicy or tangy flavors."
The candy queen added, "We've certainly seen some of that in the candy industry before with Red Hots and Atomic Fireball, but this is taking those flavors to the next level and really experimenting with different heat sources as well as different sweet sources."
The new Skittles flavors include Fiery Watermelon, Blazin' Mango, Flamin' Orange, Sizzlin' Strawberry and Lemon Spark. Meanwhile the new Starburst flavors coming to play in the party in your mouth are Fiery Watermelon, Strawberry Mango, Flamin' Orange and Pipin' Pineapple.
While the flavors may be big, the price isn't. A single bag should run you $0.99 per single pack and go up to $3.19 for big bag. But you're going to have to wait a hot minute before you can get Skittles Sweet Heat and Starburst Sweet Heat, as they won't be available for purchase until December.
Sounds like candy fans can ring in the new year with some fiyah!