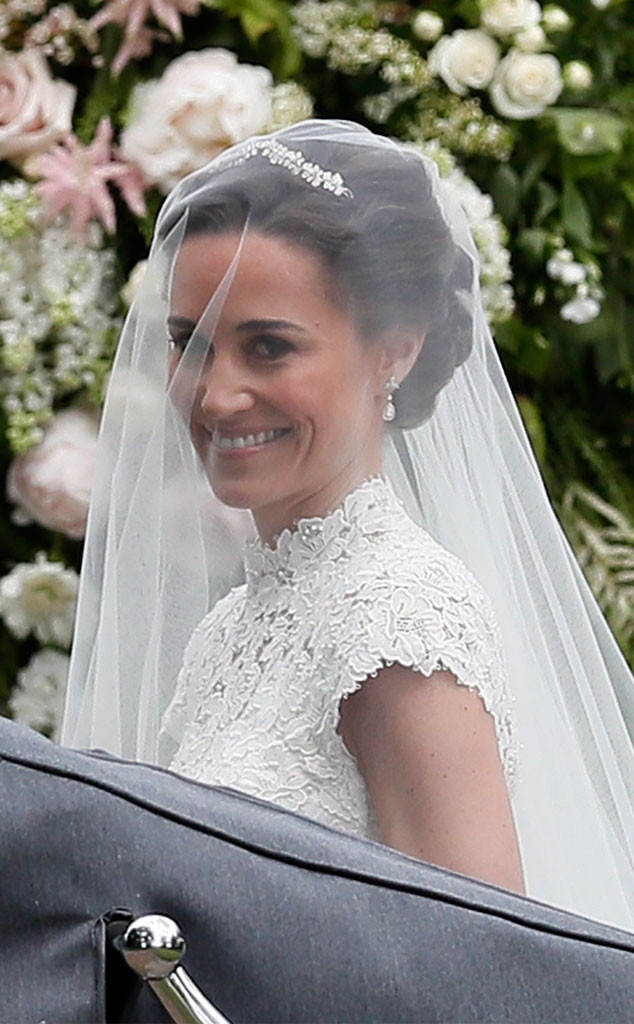 AP Photo/Kirsty Wigglesworth, Pool
Here comes the bride!
Pippa Middleton has officially arrived to St. Mark's Church for her wedding to fiancé James Matthews. The stunning future Mrs. smiled to photographers in a lace gown, small tiara and veil over her face. The dress features a keyhole back with ornate lace detailing. 
The dress was designed by Giles Deacon with a veil by Stephen Jones, a Maidenhair Fern tiara and Manolo Blahnik ivory satin shoes. The bride arrived to the church in an open-top vintage car alongside her father, Michael Middleton.
JUSTIN TALLIS/AFP/Getty Images
Her arrival was met with roaring applause from the growing crowd of locals, media and photographers who had traveled from near and far to catch a glimpse of her. 
Before walking into the church, the bride's sister, Kate Middleton, took a moment to adjust the back of Pippa's dress.
The mother of two, who famously had Pippa as her bridesmaid at her wedding in 2011, sported a blush dress with a matching floral hat for the occasion. 
JUSTIN TALLIS/AFP/Getty Images
JUSTIN TALLIS/AFP/Getty Images
She and Matthews are set to say "I do" by the afternoon in Englefield, England. Following the intimate ceremony, family and friends will celebrate the new Mr. and Mrs. Matthews with a champagne toast at Englefield House, just steps away from the church.
Later, the bride and groom will meet 300 guests at Middleton's family home in Bucklebury for a lavish reception housed inside a glass structure on the 18-acre property. 
In addition to the flower-filled glass house, attendees will also be able to use luxury porta-bathrooms to freshen up. 
But, before any of the festivities can begin, Pippa has to get down the aisle. 
Brace yourself, James—the bride is stunning!