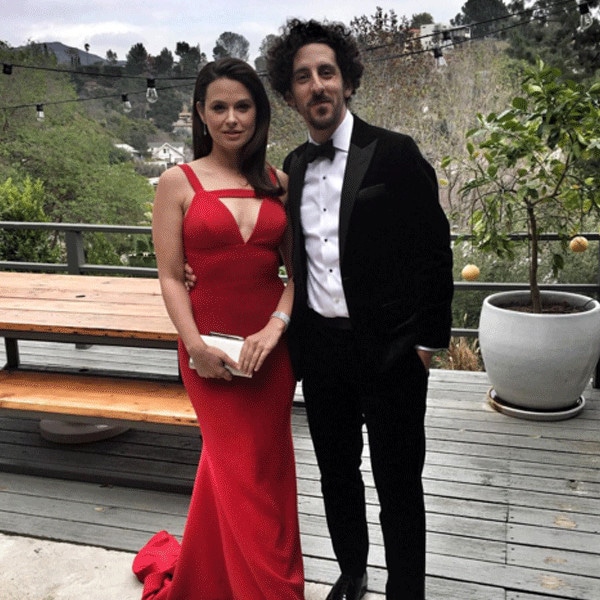 Instagram
Katie Lowes is about to become a Gladiator mom!
As she confirmed on Jimmy Kimmel Live Thursday night, the Scandal star is expecting. The 35-year-old actress also already knows the sex of her and husband Adam Shapiro's first child. 
"It's a boy!" the mom-to-be revealed to Jimmy Kimmel. "We have zero names." However, she quipped that her husband of five years would like to have a little Lebron after court superstar Lebron James.
Of course, there was no hiding this pregnancy from her famous boss, Shonda Rhimes. "I told her five minutes from being pregnant," Lowes admitted. "She already knew—she's a genius."
The ultra-observant TV mogul could tell just by watching the actress during edit sessions. "She knows the minute I got pregnant," the actress said. Either it was a "really good weekend eating pizza and beer or I was pregnant."
Lowes isn't the only co-star to keep her boss in the loop. When head Gladiator Kerry Washington was pregnant with her second child, son Caleb Kelechi Asomugha, Kimmel once again got in on the pregnancy news and wanted to know who she called first. 
"Your parents or Shonda?" the late-night host asked. 
"My parents don't want me to answer that," she said while shaking her head and smiling. "I will not answer that."
So....is that a yes, Kerry?
In the meantime, we'll just contemplate ways for the crew to hide Lowes' baby bump for the final season of Scandal. 
Congratulations to the mom and dad-to-be!