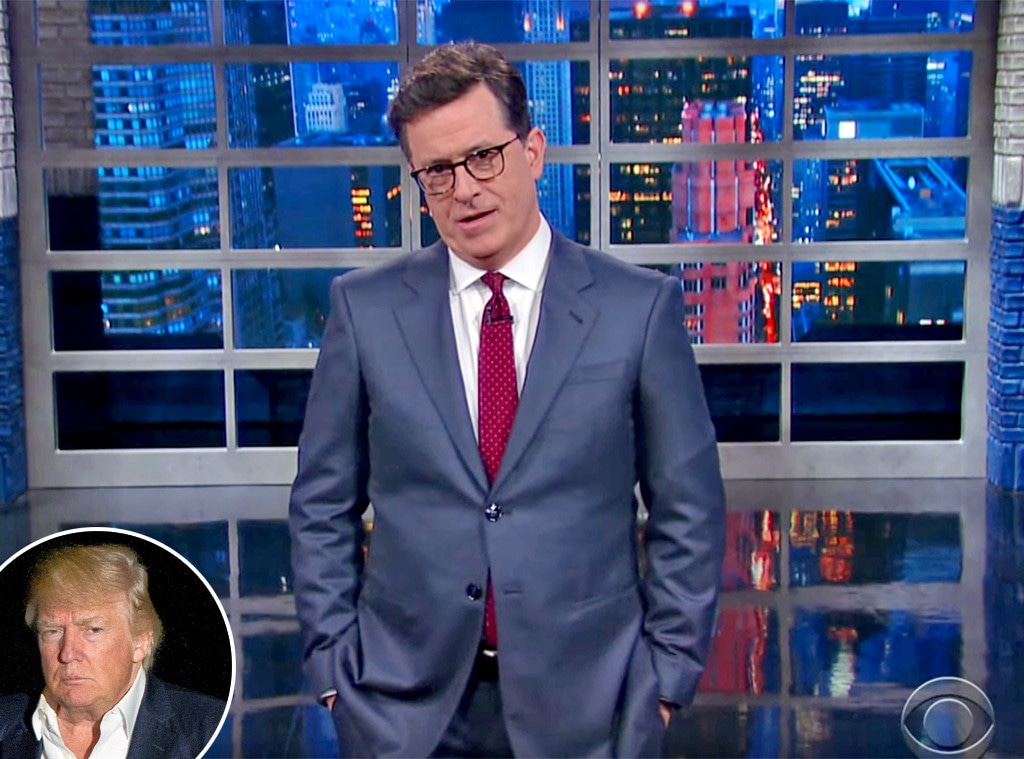 CBS; Getty Images
Your move, Stephen Colbert.
President Donald Trump ranted about the Late Show host in a recent interview with Time magazine. His comments were posted online Thursday, more than a week after Colbert insulted the U.S. leader on his program in a now-viral and censored R-rated segment. The host has continuously slammed and mocked Trump.
"You see a no-talent guy like Colbert," Trump told Time. "There's nothing funny about what he says. And what he says is filthy. And you have kids watching. And it only builds up my base. It only helps me, people like him. The guy was dying. By the way they were going to take him off television, then he started attacking me and he started doing better. But his show was dying."
CBS and Colbert have not commented on Trump's remarks. 
"I've done his show," the president continued. "But when I did his show, which by the way was very highly rated. It was high highest rating. The highest rating he's ever had."
Trump appeared on The Late Show With Stephen Colbert in September 2015. The episode ranked first among its late-night show competitors that night with a 3.7 rating among total viewers, which marked a 42 percent increase from the previous year. During the last week of April, Colbert's show ranked No. 2 behind NBC's The Tonight Show Starring Jimmy Fallon, with an average 3.14 rating.
On May 1, Colbert slammed Trump in his monologue on The Late Show after the president, who has called much of the mainstream media "fake news," insulted CBS colleague and Face the Nation host John Dickerson to his face during an interview.
"Mr. President, I love your presidency. I call it 'Disgrace the Nation,'" Colbert said. "You're not the POTUS; you're the 'BLOTUS.' You're the glutton with the button. You're a regular 'Gorge Washington.' You're the 'presi-dunce' but you're turning into a real 'prick-tator.'"
"Sir, you attract more skinheads than free Rogaine," he continued. "You have more people marching against you than cancer. You talk like a sign-language gorilla that got hit in the head. In fact, the only thing your mouth is good for is being Vladimir Putin's c--k holster."
The latter line spurred many angry viewers to laugh complaints with the FCC, while #FireColbert became a trending topic on Twitter.
Two days after making his comments, Colbert addressed the backlash on his program.
"Welcome to The Late Show. I'm your host, Stephen Colbert. Still? I am still the host?" he said in his monologue. "I'm still the host!"
"Now, if you saw my monologue Monday, you know that I was a little upset at Donald Trump for insulting a friend of mine," Colbert said. "So at the end of that monologue, I had a few choice insults for the president in return. I don't regret that. He, I believe, can take care of himself. I have jokes, he has the launch codes. So, it's a fair fight."
He added that he "would do it again," but "would change a few words that were cruder than they needed to be."
In his interview with Time, Trump also insulted CNN anchors Don Lemon and Chris Cuomo. Trump has routinely complained about the way he is portrayed on CNN and last August tweeted, "Don Lemon is a lightweight - dumb as a rock."
"For instance I don't watch CNN. I don't watch MSNBC," said the president, a fan of conservative-leaning Fox News. "CNN in the morning, Chris Cuomo, he's sitting there like a chained lunatic. He's like a boiler ready to explode, the level of hatred. And the entire, you know the entire CNN platform is that way."
"This Don Lemon who's perhaps the dumbest person in broadcasting," Trump continued. "Don Lemon at night it's like—sometimes they'll have a guest who by mistake will say something good. And they'll start screaming, we're going to commercial. They cut him off. Remember? I've seen things where by mistake somebody they bring in a guest and it turns out to be a positive. And they go, I mean they get just killed. The level of hatred."
A CNN spokesperson told E! News in response, "His comments are beneath the dignity of the office of the President."