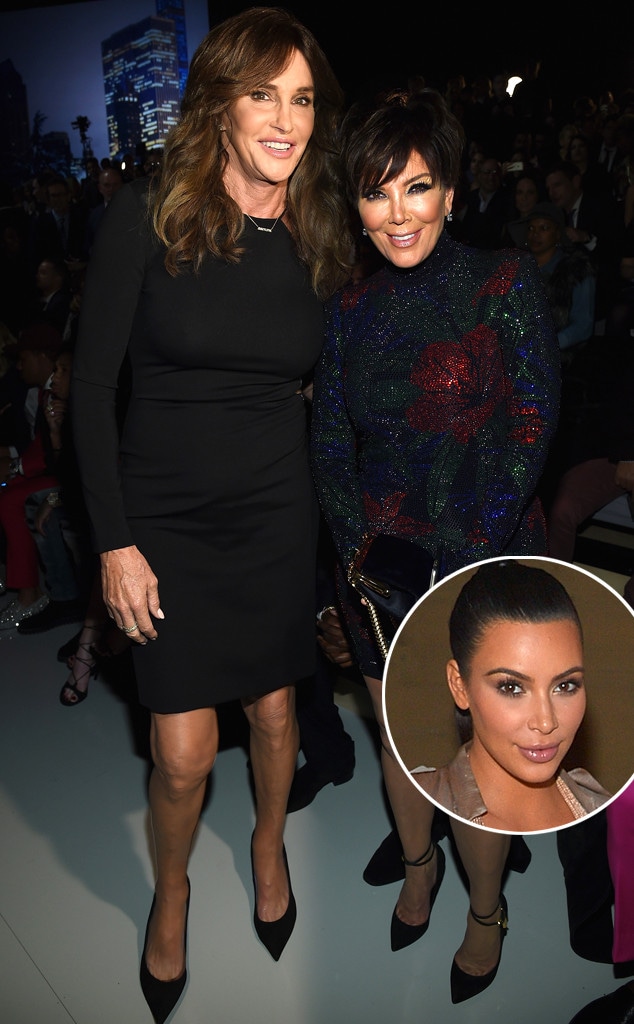 Dimitrios Kambouris/Getty Images for Victoria's Secret
Caitlyn Jenner has confirmed it has been a while since she has talked to Kim Kardashian, who has said she is heartbroken by the way her mother Kris Jenner has been affected by the Olympian's new tell-all book.
In the transgender woman's new memoir, The Secrets of My Life, she talks about her relationship to her ex, writing, "I tell Kris about my gender issues before I make love to her," but that Kris "insists that she was taken by surprise by my ultimate transition to Caitlyn." Kris has expressed anger over the book, saying everything written about her there is made up. Kim defended her mother on The Ellen DeGeneres show last month, adding she personally has not talked to Caitlyn in a couple of weeks.
"I love Kimberly, I think she's a wonderful person," Caitlyn said on the Today show on Australia's 9 Network Thursday. "But, well, to be honest with you, I really haven't talked to her in a long time. I've kind of let everything calm down. So I kind of stay, you know, I keep my distance. I'm out there trying to make a difference in the world. There's a lot of drama in the Kardashian family. This is my book about my opinions on things that had happened with me and my family. Any time I express my opinion, you know, with my family, there's always challenges in doing that."
Kim had told Ellen DeGeneres that she will "always love" Caitlyn, saying, "that was my stepdad for so many years. She taught me about character and so much growing up." But she also said, "I just feel like I don't respect the character that she's showing now...I just feel like there's no need for a book. Tell your story, but just don't bash other people."
"My heart breaks for my mom, because I feel like she's been through so much," Kim said. "I just feel like it's unfair; things aren't truthful."
Last month, Kim "liked" a person's tweet that read, "Question of the year," which was a response to another user's tweet that read, "So when is Caitlyn going to actually talk about herself rather than everyone else."
Caitlyn first publicly revealed her intent to live as a transgender woman in a 20/20 interview with Diane Sawyer. Kim, Kris and other members of her family later expressed support for her. Caitlyn told Sawyer said Kim "has been by far the most accepting, and the easiest to talk to." But were they previously kept in the dark about her decision?
Khloe Kardashian had said on The Howard Stern Show on SiriusXM last year that the family finally learned that Caitlyn planned on transitioning while watching her 2015 Diane Sawyer interview.
She said during a business meeting for Caitlyn's docu-series, I Am Cait, "They mentioned Bruce had a television show about transitioning, and that's the first we heard of it."
"We felt betrayed because more business people [knew]," Khloe said.
Caitlyn said on Andy Cohen's SiriusXM radio station Radio Andy last month that Khloe's comments to Howard Stern pissed her off "'cause I never lied to her, you know, if I didn't tell her everything. First of all, she never asked."
She added that Khloe "hasn't talked to me in, like, two years."
Watch:
Kris Jenner "Proud" of Family Accepting Caitlyn Jenner
Caitlyn also talked about her book on The Talk Wednesday. She said she "was so nice to Kris" in her book and that the two are "not talking as much as we used to, but I'm sure that'll change when everything calms down."
"I miss everybody," she said. "My house is open. My relationship with some of kids is better and with others it's maybe a little more strained. But I think as time goes on, that'll change."