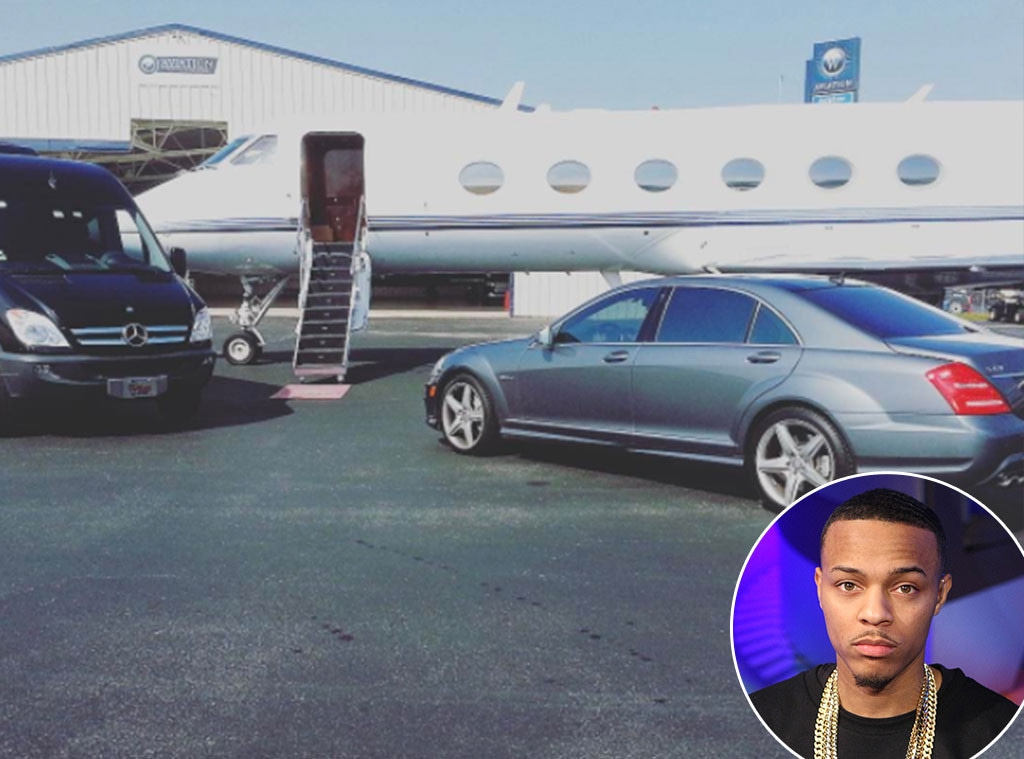 Instagram
More social media, more problems!
Just when you thought Instagram, Snapchat and Twitter provided more benefits than burdens for stars, Bow Wow found himself in quite the snafu this week.
The rapper turned reality star shared a post of a private jet with the caption, "Travel day. NYC press run for Growing Up Hip Hop. Lets gooo. I promise to bring yall the hottest show EVER."
Flashy? Sure. Authentic? Not so fast.
A Snapchat user discovered that Bow Wow also known as Shad Moss was actually on his flight to New York City. And no, it wasn't a private plane. The receipts went viral and now the Internet can't stop calling out the rapper.
The social media oops got us thinking of all the other stars who made a few mistakes on popular apps. Shall we look back at the good, bad and down-right wild below?
Vicki Gunvalson: Talk about whooping oops-ing it up. The Real Housewives of Orange County star snapped a quick picture of her new Beats by Dre headphones from Bravo. "Thank you #bravotv for my Christmas present, love these for all my travelling. #happyholidays, #andycohen, #lovegettingpresents," she captioned the now-deleted Instagram. What she didn't realize at the time was that you could see her reflection off the box and therefore she was also visible in the photo—and she just so happened to take the picture while she was naked. Awkward….
Alison Pill: The newsroom may have had a field day when the actress accidentally tweeted a topless photo of herself laying on a bed. Alison quickly deleted the pic of her ta-tas, but not before owning up to her mistake. "Yep. That picture happened. Ugh. My tech issues have now reached new heights, apparently. How a deletion turned into a tweet... Apologies," the actress wrote.
Tina Knowles: Not everyone can keep up with the Jenners. After Kris Jenner attended The Wearable Art Gala, Beyoncé and Solange Knowles' mom decided to post a photo of the famous momager's red carpet look. The only trouble was she didn't get the spelling correctly the first time. "Chris Kardashian at The Wearable Art Gala," Tina wrote online before catching her mistake. Didn't she know it's all in the power of K?!
Scott Disick: Like so many reality stars, Scott enjoys a sponsored post on his feed every now and then. Unfortunately, the Keeping Up With the Kardashians star once failed to delete instructions for one specific post. As a result, the world learned exactly what happens behind the scenes. "Here you go, at 4 p.m. EST, write the below," the now deleted caption stated. "Caption: Keeping Up with the summer workout routine with my morning @Booteauk protein shake!"
Rita Ora: Way back on 2014's Halloween night, Rita took to Twitter with a mission for her fans: She would drop a new song if her tweet got 100,000 retweets. When she didn't come close to reaching her goal, The Voice U.K. coach claimed that she was hacked. "By the way my Twitter got hacked somebody is threatening to release new music I've worked really hard on," she wrote. "Nothing comes out until I'm ready." Coincidence or something more? We'll let you decide.