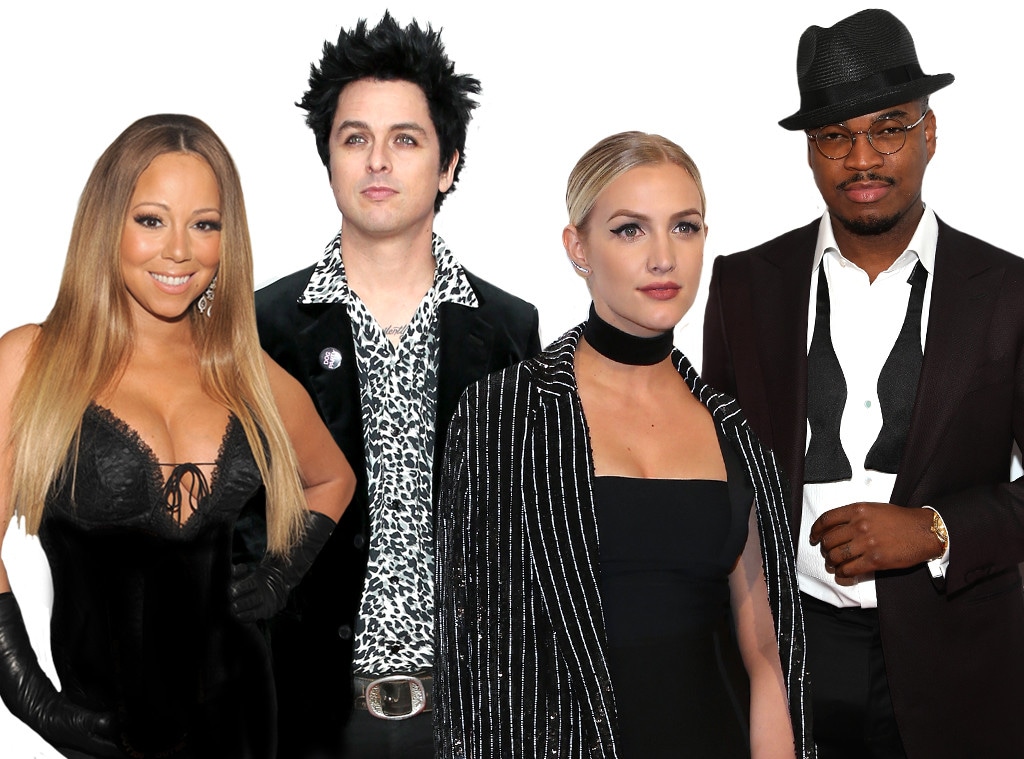 Getty Images
Mariah Carey's New Year's Eve performance debacle is just one of many live television snafus.
Critics immediately turned to social media to call out the songstress for poorly lip-syncing her songs, but Carey shook it off onstage. "Well, happy new year. We can't hear," she told the crowd, as her dancers continued their routine. "I'll just get through the moment, okay?"
"Alright!" she said. "We didn't have a check for this song. So we'll just say, it went to number one, and that's what it is, okay?
"That was...amazing," she said.
Watch:
Mariah Carey Pours Champagne All Over Bryan Tanaka
After her performance Carey brushed off the technical issues. "S--t happens…Have a happy and healthy new year everybody!...Here's to making more headlines in 2017," she tweeted. But that wasn't the end of it. Carey's camp claimed Dick Clark Productions knew the earpieces weren't working and told Carey to perform regardless. The production company swiftly denied those allegations to E! News.
"As the premier producer of live television events for nearly 50 years, we pride ourselves on our reputation and long-standing relationships with artists," DCP said in a statement released Sunday to E! News. "To suggest that DCP, as producer of music shows including the American Music Awards, Billboard Music Awards, New Year's Rockin' Eve and Academy of Country Music Awards, would ever intentionally compromise the success of any artist is defamatory, outrageous and frankly absurd."
"In very rare instances," DCP continued, "there are of course technical errors that can occur with live television, however, an initial investigation has indicated that dcp had no involvement in the challenges associated with Ms. Carey's New Year's Eve performance. We want to be clear that we have the utmost respect for Ms. Carey as an artist and acknowledge her tremendous accomplishments in the industry."
Carey ultimately changed the conversation by live-tweeting Mariah's World. Clearly, the "Always Be My Baby" singer is moving forward from her New Year's Eve debacle, and other musicians have tried to do the same when they come under fire for a botched performance.
Ashlee Simpson Ross received the honor of performing on Saturday Night Live in 2004 but took major heat after she started to lip sync and then walked off the stage.
NBC quickly cut to commercial, and afterwards Simpson told the audience, "I feel so bad. My band started playing the wrong song."
She later took to her personal website to apologize for blaming the band and copped to lip-syncing. "I can't cancel something like SNL," Simpson wrote.
"You and I know that even if I synched on it or not, I'd still get seen by millions, maybe even make a few more fans. I'll hold my head high and say I think it was silly of me to do it, silly of me to blame the band, I was just so f---ing embarrassed. But I don't think it did me much harm, and people will see that soon."
Green Day frontman Billie Joe Armstrong completely broke down during the 2012 iHeartRadio Music Festival, which ultimately became the indicator that he had been struggling with alcohol and prescription drugs. While his band was performing, Armstrong noticed a one-minute cue and started freaking out onstage that Green Day was getting cut early.
"You're gonna give me one minute? I've been around since f--king 198-f--king-88, and you're gonna give me one minute?" he screamed. "You've gotta be f--king kidding me! I'm not f--king Justin Bieber, you motherf--kers!"
Armstrong smashed his guitar in his fit of rage, and the next day he checked himself into rehab. He later opened up to Rolling Stone about the public ordeal, saying he hardly remembered what happened. 
"The next morning, I woke up. I asked [my wife] Adrienne, 'How bad was it?' She said, 'It's bad.' I called my manager. He said, 'You're getting on a plane, going back to Oakland and going into rehab immediately.'"
"I couldn't predict where I was going to end up at the end of the night," Armstrong told the magazine of his addiction problem. "I'd wake up in a strange house on a couch. I wouldn't remember how. It was a complete blackout."
But maybe it was Ne-Yo who had the most interesting explanation for his 2009 breakdown during a concert in Manchester. Halfway through his concert, Ne-Yo broke down into tears and whispered, "Trust me, I will be back," before running off the stage. The R&B crooner later wrote to fans explaining his sudden outburst, claiming nasal congestion prevented him from giving attendees the performance they "deserved."