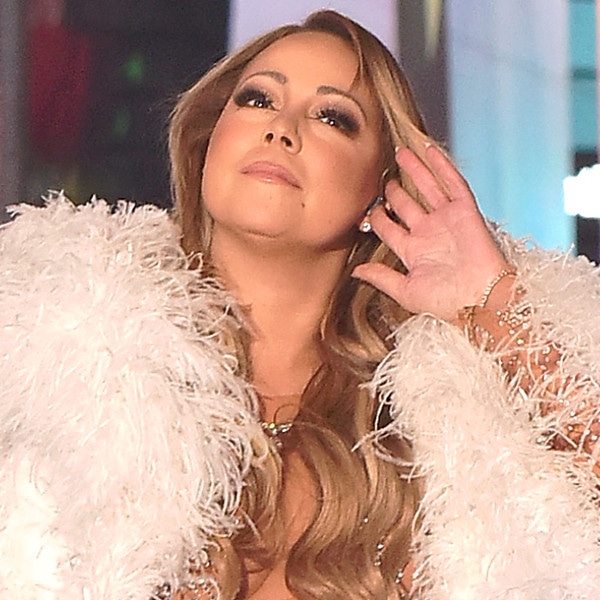 Eugene Gologursky/Getty Images
2017 started off on a bum note for Dick Clark's New Year's Rockin' Eve With Ryan Seacrest.
Accusations have been flying since Mariah Carey's unfortunate performance on the New Year's Eve programming staple went awry, with armchair critics at home snarkily tweeting that she was phoning it in—and Carey's camp insisting that producers set her up to fail.
Hardly the first singer to not be on top of her game in the frigid cold, Mariah herself didn't let one bad outing out of a zillion in her remarkable career spoil her mood, nonchalantly tweeting afterward,"S--t happens…Have a happy and healthy new year everybody!...Here's to making more headlines in 2017."
But that was not the end of the discussion.
"Well, happy new year. We can't hear," Carey, looking rather stunning in a sparkly nude bodysuit, told the crowd after only the prerecorded portion of "Emotions" (normal protocol, for a singer to perform live along with a prerecorded track to get the right sound) rang out into the night air. "I'll just get through the moment, OK?"
"I'm trying to be a good sport here," she said.
"We didn't have a check for this song," she added. "So we'll just say, it went to number one, and that's what it is, OK?"
"We Belong Together" didn't go any better, and Carey looked and sounded miffed when the music started and she said, "This is the album version, so I'm just going to let you put this thing on me and sing along."
"It just don't get any better," she informed the crowd.
TMZ was quick to report on Jan. 1 that they had been told that Carey's camp insisted to producers that the artist's earpiece was malfunctioning and she couldn't go out there with that piece of equipment, but the producers figured a screw-up would be good for ratings and they sent her out there anyway.
"We told them [the stage managers] that the in-ears were not working 10 minutes before the performance," Carey's manager, Stella Bulochnikov, told Billboard afterward. "They then changed the battery pack, and they were still not working on the frequency four minutes before the show. We let them know again, and they just kept counting her down and reassuring her that they will work as soon as they go live, which never happened—at which point she pulled them out but could not hear the music over the crowd."
Moreover, Bulochnikov said, ABC just went ahead and aired the botched performance on the West Coast, too.
"After the show," she continued to Billboard, "I called [Dick Clark Productions'] Mark Shimmel and I said, 'What the f--k happened?' He said, 'Let me call you back,' then called me back and confirmed the in-ears were not working and asked if I would make a joint statement. I said, 'No way.' I asked him to cut the West Coast feed. He said he could not do that. I asked him why would they want to run a performance with mechanical glitches unless they just want eyeballs at any expense ... It's not artist-friendly, especially when the artist cut her vacation short as a New Year's Eve gift to them."
Dick Clark Productions vehemently denied setting Carey up to fail.
"As the premier producer of live television events for nearly 50 years, we pride ourselves on our reputation and long-standing relationships with artists," DCP said in a statement released Sunday to E! News. "To suggest that dcp, as producer of music shows including the American Music Awards, Billboard  Music Awards, New Year's Rockin' Eve and Academy of Country Music Awards, would ever intentionally compromise the success of any artist is defamatory, outrageous and frankly absurd.
Neilson Barnard/DCNYRE2017/Getty Images for dcp
"In very rare instances," dcp continued, "there are of course technical errors that can occur with live television, however, an initial investigation has indicated that dcp had no involvement in the challenges associated with Ms. Carey's New Year's Eve performance. We want to be clear that we have the utmost respect for Ms. Carey as an artist and acknowledge her tremendous accomplishments in the industry."
Once again, Carey turned her attention elsewhere, tweeting last night with fans during the latest episode of Mariah's World.
"I always always love seeing #Lambily members in the audience. Thank you for all your love and support. #LYM," she wrote.
But those who insist that producers did nothing to pave over the performance pot hole and instead let Mariah just fall in are not backing down.
Everything seemed normal when Carey rehearsed at 3 p.m. before showtime.
"She went through vocals and her team ran through sound," a source told E! News Tuesday. "All was well at rehearsal. She was prompt for rehearsal and her performance."
"DCP knew her ear piece wasn't working and sent her on stage regardless," the source said. "It was sloppy and unprofessional on their part. Their statement says they didn't intentionally sabotage her, which [her team] agrees with. It doesn't apologize for failing to do a good job producing her performance, which is what happened. Her team knows that there are sometimes technical issues with live performances.
"All her manager asked DCP for was an apology for the poor job that they did producing and support of Mariah."
Carey has since sounded off on the whole ordeal, telling Entertainment Tonight in an interview published Tuesday,  "All I can say is Dick Clark was an incredible person and I was lucky enough to work with him when I first started in the music business. I'm of the opinion that Dick Clark would not have let an artist go through that and he would have been as mortified as I was in real time."
Of future life performances she revealed, "It's not going to stop me from doing a live event in the future. But it will make me less trusting of using anyone outside of my own team."
Carey also thanked her "true fans" for standing by her side, adding, "My true fans have been so supportive and I am so appreciative of them and everybody in the media that came out to support me after the fact because it really was an incredible holiday season that turned into a horrible New Year's Eve."
(This story was originally published at 9:26 a.m. on Jan. 2, 2017.)