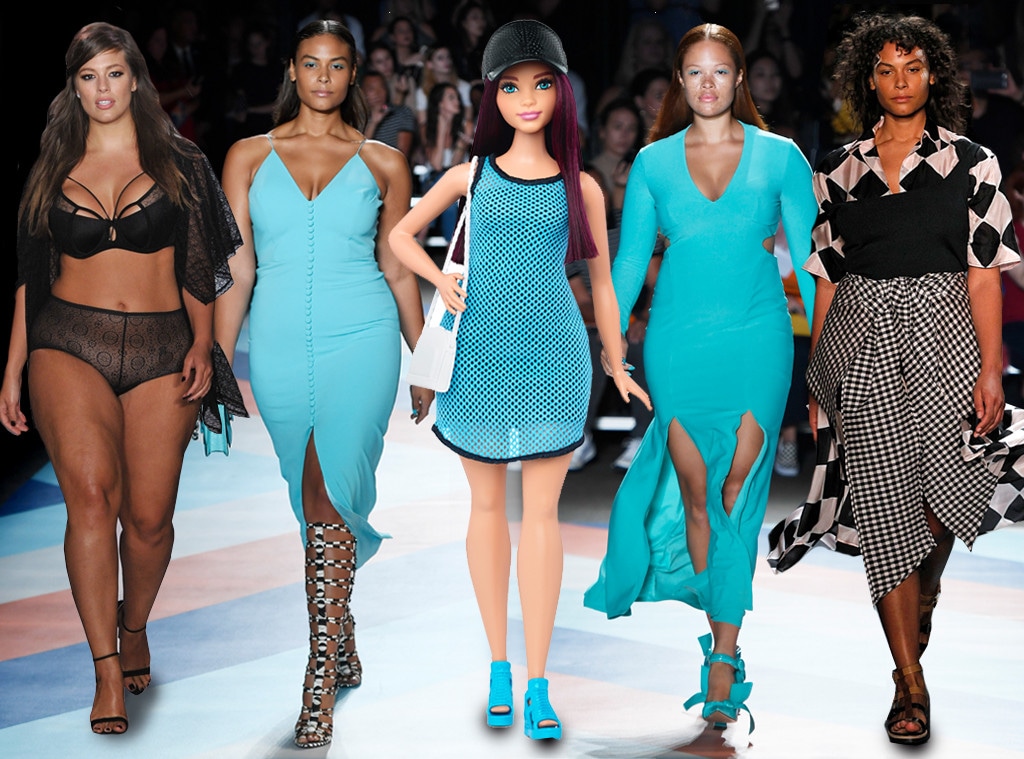 Getty Images; Mattel
What 2016 lacked in happiness and civility, it made up for with heated emotions and a still-ongoing war of words.
Social media really seemed to come into its miserable own in 2016, serving as a watering hole where the worst in people go daily to pass judgment and prick each other's wit balloons.
But though the Internet continues to offer up a new low at every turn, it at least has also been giving people a platform to fight back—against lies, against hate speech, against bullies of all kinds.
And for all of 2016's flaws and our regression into 140-character anarchy it was, strangely enough, a landmark year for body positivity and the increasing inclusion of a diverse array of shapes and sizes in the representation of women onscreen, in magazines, in advertisements, on the runway and beyond.
It's been an unfortunately slow slog, but the world has at least come a long way since plus-size fashion was an after-thought at the mall, or the only universal standard of beauty came in an unrealistically slender, airbrushed package. And funny enough, the shift toward a more inclusive approach owes some thanks to social media, where people can share images of what they find beautiful and take style cues from women and men they actually identify with.
And some of the most famous brands in the world are finally catching up.
Even before Sports Illustrated made history by featuring Ashley Graham—who's since arguably become the most famous plus-size model in the world and the unofficial spokeswoman for every conversation being had about the term "plus size"—on one of three covers of its vaunted Swimsuit Issue, you could sense which way the wind was blowing when Barbie broke out of her 57-year-old mold.
In January, Mattel launched three new body types for its classic doll—curvy, tall and petite—after years of criticism over Barbie's measurements, which when applied to a flesh-and-blood scenario don't support certain bodily functions if Barbie were a real woman. The 2016 Barbie Fashionista Collection was intended to provide healthier examples for kids who only knew the doll as an anatomically incorrect doctor-slash-astronaut.
"We believe we have a responsibility to girls and parents to reflect a broader view of beauty," Evelyn Mazzocco, senior VP and global general manager of Barbie, said at the time. "I wanted to remind myself every time I came to work about the reality of what is going on with the brand."
The reality being that Barbie was competing for market share with an Internet full of more diverse, more empowering images. Similar to how magazines and clothing brands have more competition than ever before for reader and customer loyalty, and an increasingly aware public no longer feels the need to settle for culture and fashion that doesn't reflect who they are.
The last couple of years have seen positive strides from everyone-welcome brands—such as American Eagle's Aerie, which quit airbrushing and retouching its models in 2014, and H&M's & Other Stories, which encourages buyers to dress however it suits them as individuals—that are actively taking steps to be more reflective of reality.
Lane Bryant, which has been around since 1901, sexed up (in a good way) its approach to women's fashion with its #PlusIsEqual campaign in 2015 and fired back at the Victoria's Secret Angel ideal with its #ImNoAngel ads. Victoria's Secret also got a response to its Perfect Body ads from underwear and fitness brand Dear Kate, which countered in an open letter by re-labeling the VS ads "The Perfect 'Body,'" while its own, more size-diverse group of models showcased the actual "Perfect Body."
So ready-to-wear is becoming ever readier to wear—but high fashion still remains largely uncharted territory.
In a September 2016 op-ed in the Washington Post, Project Runway's resident mentor Tim Gunn slammed the fashion industry for woefully underserving plus-size customers—and he criticized his own show for picking a winner whose collection was "hideous."
"Her victory reeked of tokenism," Gunn wrote of Ashley Nell Tipton's plus-size line. (Then again, Gunn also picked Charlize Theron as worst-dressed at the Oscars last year, so his personal opinions on what constitutes classy dressing are very much his own.)
 Gunn is presumably quite proud, then, of season four Project Runway winner Christian Siriano, who over the past eight years has become a force to be reckoned with on the Hollywood red carpet—and who has also become a favorite designer for celebrities of all sizes.
Siriano took his brand another step into the future at his Spring 2017 show during New York Fashion Week, including five plus-size models on his runway. (Ashley Graham, wearing Christian Siriano of course, was watching from the front row.)
"It was one of those things that just kind of happened as the days went on," he told Glamour when asked if he purposely intended to become the go-to guy for more inclusive red carpet fashion. "I think it's great that we're just doing what we do—and then it turned into a thing. I think it's worked because I'm just into women—and for my design, it's all about the body."
"At the end of the day," Siriano concluded, "I love to create change. I think it will be nice if then there's a new wave of a totally different fashion It girls."
Dimitrios Kambouris/Getty Images for New York Fashion Week: The Shows
That being said, the conversation about what "body positivity" really means—or should mean—continues. While it's often summed up as being comfortable in one's own skin, to some it is about banishing labels and the prevailing notion that "fat" is something that needs explanation or "acceptance."
Like humanists whose goal is the eradication of the type of racial and ethnic biases that subconsciously divide society whether anyone is physically building walls or not, some activists are hoping the movement extends to sweeping body equality.
"Making peace with our bodies and learning to love them is also about radical social justice and change.  It includes a deep look at racism, violence, biased health care, fatphobia, inaccessible spaces, discrimination, limited resources, gendered bathrooms, sexism, irrelevant age limitations, and so much more," Jess Baker, founder of the site The Militant Baker, told Bustle last summer. "I'd love to see Body Positivity fully encompass Body Equality, but as of right now we haven't been able to merge them in the mainstream. Yet."
Alas, a society in which Gigi Hadid is still considered a curvy model— even though "curvy" is now the catch-all word that's used to label everyone who isn't a size-0 so that the one doing the labeling isn't then labeled an a-hole—probably isn't anywhere close to being a society that doesn't see weight.
Dimitrios Kambouris/Getty Images for Victoria's Secret
"I represent a body image that wasn't accepted in high-fashion before, and I'm very lucky to be supported by the designers, stylists and editors that I am…Yes, I have boobs, I have abs, I have a butt, I have thighs, but I'm not asking for special treatment," Gigi, a supermodel who also has the misfortune to be an It Girl in a Troll's world, wrote in September 2015 in a message to body shamers who found cause to quibble with her shape.
Meanwhile, Graham, who really did break down a barrier when she appeared on the covers of Maxim and the Sports Illustrated Swimsuit Issue in quick succession in 2016, loathes the term "plus size" but is caught between wanting it abolished and her role as someone who can help destigmatize the term.
She now has a column in In Style, which like many fashion magazines still uses the term (though not in relation to Graham's monthly feature), but she frankly told E! News almost a year ago, "I hate the world 'real woman' and I hate the word 'plus-size.'" She said that she respected its continued use as a sign of inclusion, "but for someone like me, I don't feel the connection to the word 'plus-sized.'"
If only "plus size" didn't still connote something undesirable, even to those who tell killer jokes about people who judge other people's bodies.
Graham felt compelled to defend the term when Amy Schumer took issue with being associated, body type-wise, with Melissa McCarthy, Adele and Graham in a Glamour cover blurb touting them as "Women Who Inspire Us." The special edition cover's theme was "Chic At Any Size!"
"I think there's nothing wrong with being plus size," Schumer responded on Instagram. "Beautiful healthy women. Plus size is considered size 16 in America. I go between a size 6 and an 8. @glamourmag put me in their plus size only issue without asking or letting me know and it doesn't feel right to me. Young girls seeing my body type thinking that is plus size? What are your thoughts? Mine are not cool glamour not glamourous."
Nowhere on the cover did the term "plus-size" appear, actually. So did she protest too much? Shouldn't the goal really be for girls Schumer's size actually to not give two figs about labels, much less the ones that are purely societal constructs?
Of course, it's easy enough to fault Schumer from afar for being way too prickly. On the flip side, she was being included (without a heads-up, apparently) in a conversation about women who "inspire" basically because they're very successful while not being super skinny. That first part is great, but to indicate that the former occurred despite the latter is a mode of thinking that—if all goes accordingly—is fast becoming passé.
And Schumer is no stranger to having her appearance judged constantly by creepers who—as she put it in a spunky message to trolls who criticized a pic of her in a swimsuit taken on vacation in May—would do well to "find some joy in [their] lives today in a human interaction." So to be further pigeonholed by a magazine under the auspices of being celebrated for rising above societal norms may have rubbed her the wrong way.
"I can see both sides, but Amy talks about being a big girl in the industry," Graham later told Cosmopolitan, which featured her on its August cover, when asked about the Glamour issue. "You thrive on being a big girl, but when you're grouped in with us, you're not happy about it? That, to me, felt like a double standard." 
As for her personal aversion to the term "plus size," she added, "Just because I'm not calling myself plus size doesn't mean I'm not representing a woman who is."
Schumer kept it classy when she reacted on Twitter with: "I totally understand Ashley's feelings. I don't group myself in with her because she is unbelievably beautiful. Nothing but respect for her."
She didn't further address the issue at hand, but what could she say, really?
Graham further clarified her stance heading into the new year in her cover interview for the January 2017 issue of British Vogue—another first for the model turned face of a movement.
"I feel even more inclined to continue my mission of beauty beyond size with the support of Vogue," she said. "That's why this barrier-breaking cover means so much to me. Not just because I get to see myself gracing this British Vogue cover, but for all the women who have heard 'no' all of their life. This is a triumph for us all, and a beautiful demonstration of how we used our voices to create change, because loving ourselves at every size and shape is not a crime, it's a right."
Grahams' words are a reminder that there's really no overstating the gravity of this issue for those who've felt forever marginalized due to their size.
This summer also saw the rise of the All Woman Project, a multimedia campaign intended to challenge generic notions of how models "should" look with an eye on ultimately knocking down the walls between different types of modeling.
"We couldn't understand why straight and plus-size models aren't featured together more in shoots and campaigns," model Charli Howard told Vogue. "As a consumer, you deserve to look at a fashion image and see yourself represented, not just a row of skinny Caucasian girls, but a variety of sizes and colors."
Marquita Pring, who walked in Tome's Spring 2017 Ready-to-Wear show, told Fashionista backstage at the Addition Elle show (also featuring Graham, Candice Huffine, Precious Lee and more) during NYFW that she was happy that her Tome appearance was taken in stride.
"I love that it was seamlessly incorporated and it wasn't just, 'Look at us and our curvy girl!'" she said. "It was just, 'this is another woman that we can dress.' But at the same time, it does need that attention because we are making a huge change."
Pring, who's been modeling for over a decade, added, "It's a slow progression but, of course, that's the way it has to be, that's how change happens."
We may not be seeing a size-blind society anytime soon (surely whoever's reading this is just glad to have made it out of 2016 alive), but just like with all trends, perhaps the one that involves casting stones at people who don't fit a certain cookie-cutter image has already peaked and is on the decline.
Once people feel free to focus on what actually makes them feel content and confident—and whether any of that involves weight or not—then we might see some real progress.
Because size shouldn't factor in when determining the measure of a person.