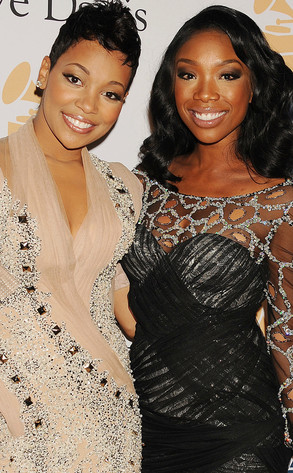 Jeffrey Mayer/WireImage
Remember the dynamic duo that brought us the Grammy-winning hit "This Boy Is Mine" in 1998 and subsequently broke out hearts by having a falling out and going their separate ways shortly thereafter?
Yes, Monica and Brandy still don't consider themselves friends after almost 20 years ago, but that doesn't mean there's still beef...at least not for Monica.
The 35-year-old singer joined The Real and dished on her feelings regarding Brandy and their so-called feud.
"There was a fan that sent a tweet to Brandy and asked her, 'Would you do the #SoGoneChallenge?' And she said 'Child, bye!'" Loni Love explained, regarding Monica's Twitter challenge and starting the conversation.
Monica smiled, "I'll tell you on the real, I'm not bothered at all…Honestly, the old me and the new me are two different things," she said. "This journey of self-progression and self-love and empowerment that I'm on, I can't go backward. I think that was just a test from God for me."