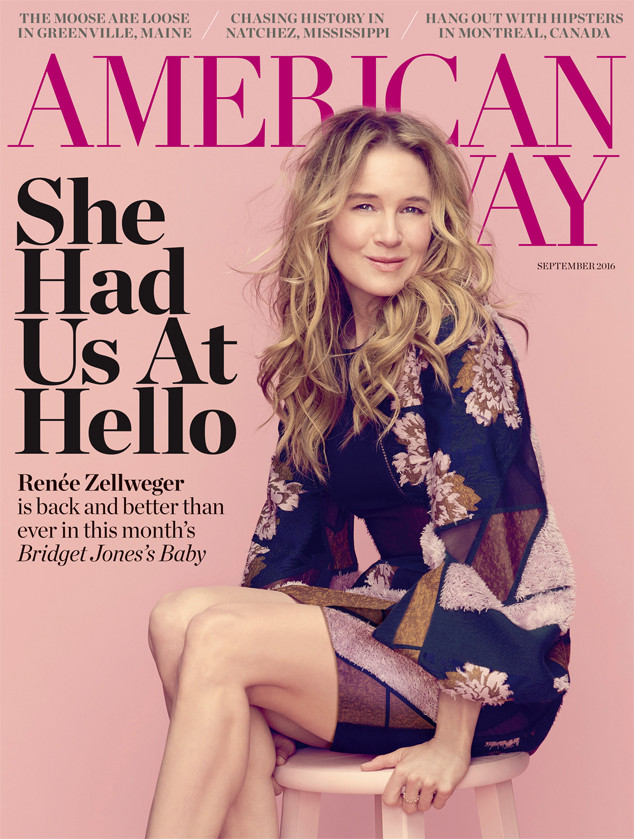 American Way Magazine
Renée Zellwegeris back after six years away from the spotlight.
The Bridge Jones's Baby star graces the September cover of American Way magazine for American Airlines, along the way offering candid insight into her motivation for leaving Hollywood in 2010 and why she chose to return.
"I planned to take some time off after Chicago (2002), but there kept being once-in-a-lifetime experiences in front of me that I didn't want to miss out on," Zellweger mused of her professional life. "Then I learned you can't keep doing that forever, so I chose to see what would happen if I did let that once-in-a-lifetime experience that was ahead of me go and just be still and see what I could build."
The 47-year-old dedicated much of her time off to helping others, traveling to Thailand and Cambodia, as well as Liberia with a gender equality organization to empower local women and advocate for their rights.
Of her experience abroad, she told the mag, "I think traveling off the beaten path is a good idea for anybody because it's essential for understanding not just the rest of the world but yourself."