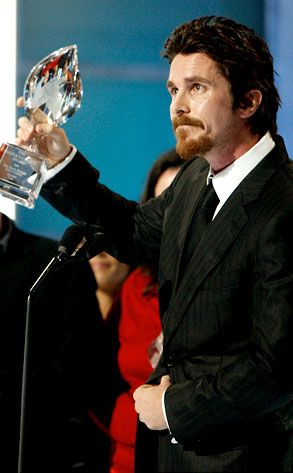 Kevin Winter/Getty Images for PCA
Was there any doubt that fans would remember 2008 as the year of the Caped Crusader and his gnarliest nemesis yet?
The Dark Knight went five for five and was named Favorite Movie at the 35th Annual People's Choice Awards, which returned to its usual star-studdedness Wednesday after an '08 broadcast held at the height of the actor-supported Hollywood writers' strike.
The serious Oscar contender was also rewarded for its awesomeness with honors for Favorite Cast, Action Movie and Onscreen Matchup, which spotlighted Christian Bale and Heath Ledger. Bale was also deemed the year's Favorite Superhero.
"Thank you very, very much," said Bale, flanked by Aaron Eckhart and director Christopher Nolan, upon accepting the evening's top award. "And on behalf of all of the cast from the movie, thank you very much to the fans. Here's to Heath, thank you."