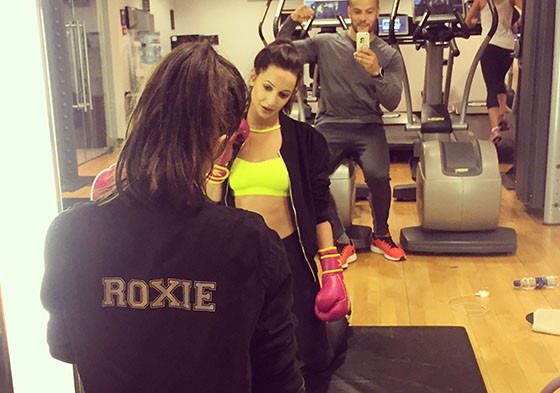 Roxie Nafousi | www.rawan.com | www.instagram.com/roxienafousi
It's no secret that I'm a bit of a workout fanatic. I absolutely love exercising, not for aesthetic reasons, but for how it makes me feel - more energetic, more productive and generally happier thanks to the rush of endorphins. I haven't always been like this though, I used to be a complete slob and I had never stepped foot in a gym until about two years ago because the idea of starting just scared me - I was worried about going to classes in case I wasn't good enough or that I would feel to self-conscious and embarrassed to enjoy it. I plucked up the courage to start and have never looked back! London has SO many incredible workout classes of such a wide variety so everyone can find something that they enjoy and that will keep them feeling fit and looking their absolute best! I love to change up my work outs to make sure my body is getting the best of everything, and it also stops me from getting bored from doing too much of one thing. I've trialled so many classes in town and I wanted to share my favourites with you - whether you're a beginner or you're already a total gym bunny, let's make 2016 the year of wellness and self improvement! 
1) The Booty Booster: Paola's Body Barre
If you want an ass like Candice Swanapole, and abs like Gisele then you definitely need to be getting yourself down to this class. Based on ballet and pilates techniques the class is dynamic, high energy and low impact meaning your body will be toned, lengthened and sculpted. When I first started this class, I noticed a huge change in my body after just a few sessions and I felt like a had a whole new bum! Get ready for squatting, crunching and balancing and say hello to a gorgeous new physique! 
2) The Detoxifier: Psycle
I enjoy nothing more than getting a good sweat on and saying goodbye to all those toxins built up over the weekend. Psycle is the king of spinning classes and feels more like you're in a nightclub than a workout. The music is SO good and so uplifting that you are able to push yourself so much further than you ever though possible because you're having too much fun to realise you're actually exercising. I used to have the worst cardio, I could hardly walk up a flight of stairs without feeling like I was going to pass out, so if someone told me I would one day be able to complete an entire 45 minutes of cycling I would have just laughed. A year later, thanks to Psycle's dark room with laser lights and banging tunes, my fitness levels have improved so much and my lungs are definitely thankful for that! There is also a weight section of the class making your arms toned and your abs strong so you really get a fully body workout. Prepare to sweat A LOT so leave time to shower after. You will leave this class feeling so rejuvenated and so ready for the day ahead.
3) The Boxing Champ: 1Rebel
We've all seen the boxing videos posted by the Victoria's Secret Angels and let's be honest, it's envy inducing! Boxing is just pretty sexy, don't you think? Sexy and also an amazing fat-busting workout, what more could you ask for? I have always been a fan of boxing as it's such a fun way to improve your cardio whilst also getting you strong, getting your abs fired up and burning off those deserts you ate last night. When I heard that 1Rebel had a Rumble class which is a boxing class using punch bags I had to go try it! During the class, which gets you in the zone with it's seriously cool hip-hop soundtrack, you will be punching, kicking, sweating, squatting, doing burpees and getting out all of your aggression! I did my first one yesterday and as I write this I have to admit I am feeling pretty sore in muscles I didn't even know existed - definitely a sign of a good workout. I felt totally energised when I left yesterday and I will definitely be going back. Before you leave you can top up your make up and fix your hair in front of their stunning vanity mirrors (which have great lighting for that post-workout mirror selfie ;-) )
Squad Goal Leggins: Missguided Sportswear
4) The Cool Club: Core Collective
Core Collective is Kensington's trendiest new fitness venue, with super hot trainers relaxing with their coffee in the ridiculously comfy armchairs and sofas upstairs and dimly lit fitness studios downstairs with the nicest changing rooms I've seen in a gym - everything about this place oozes cool. They do 4 classes: Velocity (HIIT), Accelerate (spinning), Resistance (TRX) and Power Yoga - so just take your pick and whatever you choose I guarantee you will work your muscles and get your heart rate going before you reward yourself with one of their delicious juices or smoothies!
5) THE Personal Trainer: Harry Jameson
While I love group classes, I think having a one-to-one with a trainer can be incredibly beneficial for ensuring that your technique is right and that you understand how to perform certain exercises correctly without injuring yourself or putting too much strain on your back. I am absolutely obsessed with personal trainer Harry Jameson who comes with years of experience in fitness and wellness. Together we created my body goal which we are working towards, and he tailors the sessions to focus on areas I want to tone up. We incorporate HIIT, boxing and body conditioning and each class is totally different. I have seen such amazing results already and can't wait to keep training with him. Harry also has a vast amount of knowledge on nutrition, how to improve your sleep and is basically my go to for any health question so during class I'm constantly asking him his advice on all my bad habits! 
The Slender Blend: Protein World
I hope you will try some of these classes and I can't wait to hear what you think of them! When you're there make sure to take a snap and use the hashtag #roxiesworkoutguide
Love Roxie x