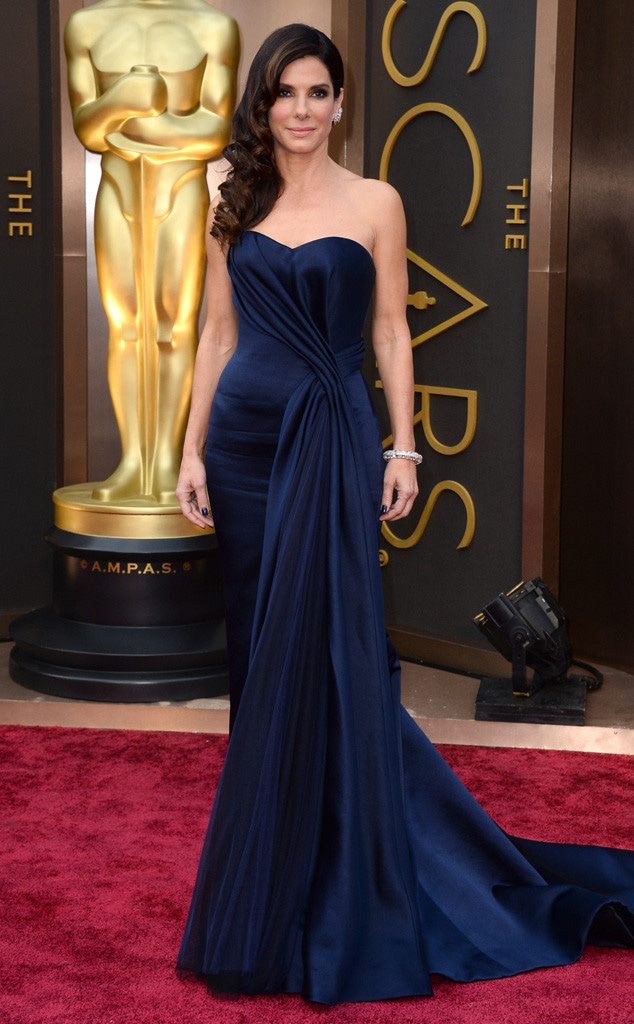 Jordan Strauss/Invision/AP
Sandra Bullock is good at keeping secrets.
The actress managed to keep her son Louis Bardo Bullock's adoption under wraps until awards season ended in 2010, and she managed to keep her daughter Laila Bullock's adoption a secret until today. Posing with her kids on the cover of People's Dec. 14 issue (on newsstands Friday), Sandra explains how and why she was determined to protect her 3-year-old daughter's privacy.
"From the ruse I had to construct so that Louis didn't have to lie to his friends at school, to the stories I constructed for friends and coworkers as to why I was absent all the time, the subterfuge was pretty elaborate," she says. "But there is always the chance that the bonding process wouldn't happen or that the CPS [Child Protective Services] workers would feel I wasn't a suitable match. So I had no problem lying and fabricating stories to keep things on lockdown."
Sandra, first fostered Laila says she feared that the adoption process would be compromised due to the attention she receives. Keeping Laila hidden from the public eye proved to be a difficult, and inevitably impossible, task. "It felt very much like witness protection," she admits.
Until the time was right, Sandra had hoped to keep her family out of the news. She even went so far as to deny expanding her family during a press conference for Our Brand Is Crisis in October. The reporter who asked about Sandra's adoption news had most likely seen photos of them already, as she and Laila had been photographed during an emergency room visit before the adoption was complete. "Unbeknownst to me, a photographer had followed us and taken a photo of us in line," says Sandra, whose boyfriend, Bryan Randall, photographed the family for People. "The next day, I learned that a photo of her was being shopped around for sale to every outlet around the world. I had promised and legally agreed to protect her from something like this, and here I was chasing down lawyers—having them begging them to keep her safe—and tabloid outlets were claiming so many things that were inaccurate. All this just for money. I had to make sure CPS [Child Protective Services] knew what was fact and fiction."
"It was dangerous because you are asked to sign a confidentiality agreement stating that you will not release any photos of the child to a third party to protect their identity—and here I found myself in a position where her identity could be revealed," she tells People. "I was sure she would be taken away. The one person who should be protecting her above all else had put her in harm's way."
As for that reporter who asked about her family? "Thank God I was asked the way that it was, because she wasn't adopted at that time. So all I said was that there was only one adopted child in my home, and if there ever was a second child who was officially a Bullock, I would be screaming it from the rooftops. So at the end of November, National Adoption Month, the courts granted the adoption, with my attorney Louis Bardo Bullock answering all of the court's questions, and now I can officially stand on my roof and start screaming."
Sandra has always valued her privacy, even more so since becoming a mother to Louis, 5. With Laila in particular, privacy became especially important. "Most foster children are in foster care because they were taken from their birth homes under tragic circumstances—and the last thing I wanted was to bring more harm to her because of the nature of my job," the actress explains.
The movie star—who describes her family as "blended and diverse, nutty, and loving and understanding"—can't imagine life without her two children. "When I look at Laila, there's no doubt in my mind that she was supposed to be here," the Oscar winner, 51, tells the magazine. "I can tell you absolutely, the exact right children came to me at the exact right time."