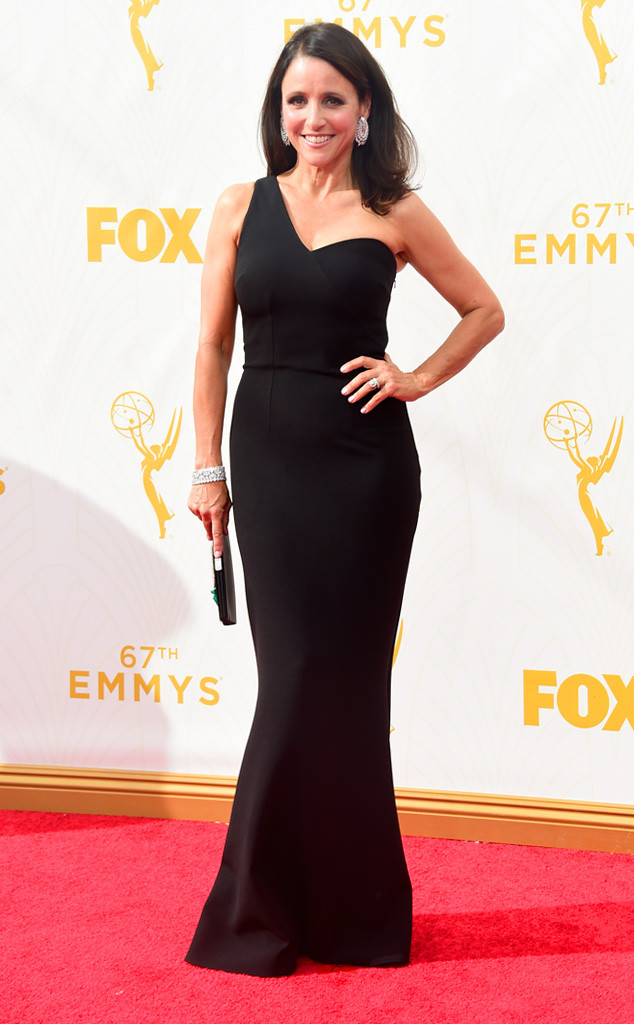 Frazer Harrison/Getty Images
Julia Louis-Dreyfus has done it again. The Veep star took home her fourth Emmy in a row for her role as Selina Meyer in the HBO series at the 2015 Emmy Awards. Louis-Dreyfus beat out Grace and Frankie's Lily Tomlin, Inside Amy Schumer's Amy Schumer, Parks and Recreation star Amy Poehler, Edie Falco of Nurse Jackie and The Comeback's Lisa Kudrow.
To kick things off, Louis-Dreyfus quoted from Veep, "What a great honor it must be for you to honor me tonight," she said. "No, I'm sorry. Donald Trump said that. It's getting trickier and trickier to satirize his stuff."
This is the actress' sixth Emmy. Louis-Dreyfus has also won Emmys for Seinfeld and The New Adventures of Old Christine. She's had 20 career nominations.
"I'd like to honor, also all the women in this category," the Veep star said. "Amy, wake up! I love you gals so much. I do, in fact."
Poehler, who was there for her sixth nomination for Parks and Rec, put on sunglasses and a hoodie and reclined in her seat when the nominees were announced.