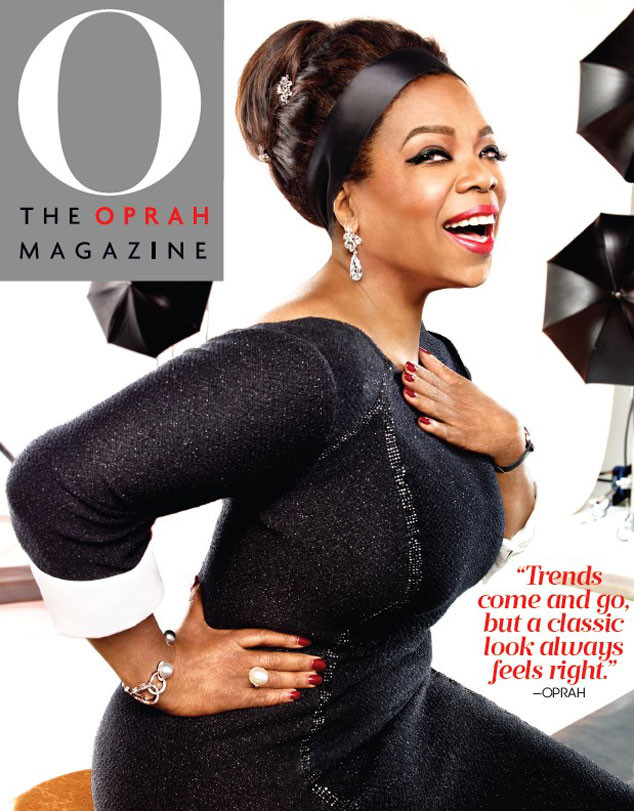 Ruven Afanador/O Magazine
A time machine may not exist yet, but that hasn't stopped Oprah Winfrey from traveling back in time!
The media maven debuted three separate covers for the October 2015 issue of O, The Oprah Magazine—but with a twist unlike anything we've seen on her covers before. Each cover is themed by a different decade showcasing iconic looks from the '50s, '60s and '70s. In typical fashion, the former Oprah Winfrey Show host didn't hold anything back, rocking hippie-inspired bell bottom jeans, platform shoes, and wild face-framing curls in one shot, then switching gears to the always classic Burberry trench, canary yellow accessories, and a standard mod pale pout. Winfrey rounded out the trio with a very classic little black dress, an upswept bun and a shiny candy-apple red manicure—an ensemble seemingly plucked from the closet of Audrey Hepburn herself.
"Trends come and go, but a classic look always feels right," the CEO of OWN said of the ensemble. No argument here, Oprah.