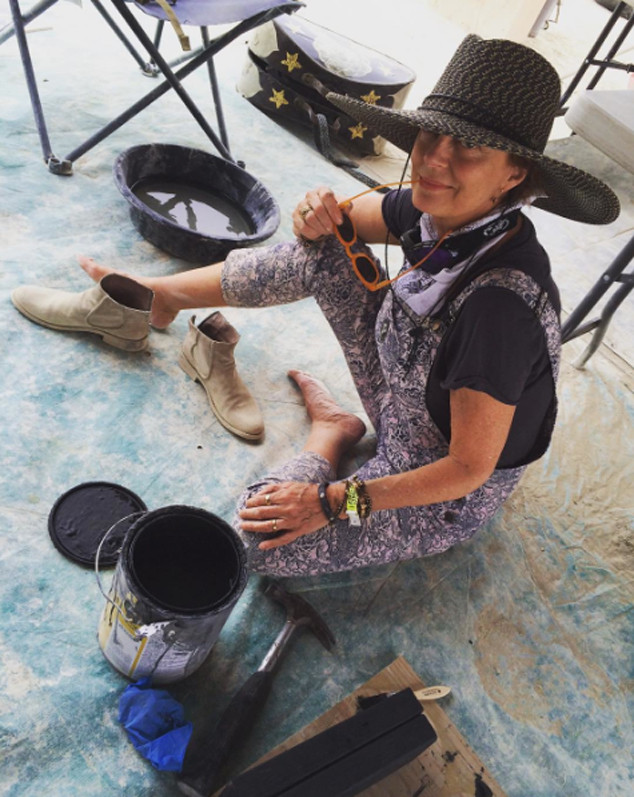 Instagram
Burning Man in and of itself seems kind of awful. Sure, there's the whole community appeal and the chance to escape from reality, but there's also sleeping in tents and not having a real shower or toilet and dust. So. Much. Dust.
But Burning Man with Susan Sarandon? Well that seems like the best time that any human could ever have.
It's really no surprise that Susan let loose at The Burn, since she's always been the hippest (and hippiest) sexagenarian in Hollywood. She came straight from the festival back to Los Angeles for an appearance on Jimmy Kimmel Live—desert plague cough and all—to spread the gospel of Burning Man to the youths everywhere.
"Burning Man is a celebration in the desert of all different kinds of people," she said in the most Sarandon-y way. "It's about self-reliance, it's about self-acceptance...it seems to be about drugs and nudity, that too." Well that doesn't sound too bad! Sign us up.
She described some of her special duties for this year's festival, which included being the guardian for the ashes of father of LSD Timothy Leary, because of course it did. Oh, and she even made the dust storms sound appealing. "It's kind of fabulous because you're there and everything's sunny and then all of a sudden it gets white and it's like a half-naked woman with a red umbrella walking out of nowhere," she said. Sure.