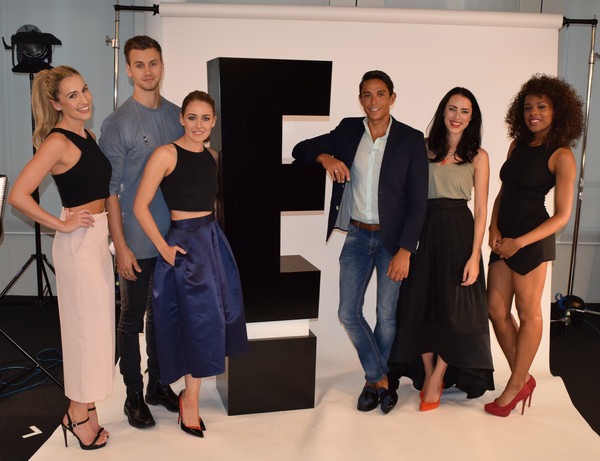 The E! UK & Ireland Host Short List!
Make Up Credit: Urban Decay
E! Entertainment Television today reveals the six lucky candidates who made it onto the hotly contended short list in the search to find the first-ever local host for the channel in the UK and Ireland.
Competition was tough for this once-in-a-lifetime opportunity for home-grown stars of the future to be part of a global entertainment brand and provide their local perspective on all things celebrity and pop culture. Thousands of entries were received from aspiring television presenters across the UK and Ireland.
The budding presenters were asked to submit a one minute audition video on a dedicated digital hub via eonline.com.  The finalists with the best videos were invited to be screen tested at E!'s, London headquarters.
The short list will be whittled down further with the finalists taking part in a London Fashion Week presenting challenge.
The new E! Host UK & Ireland will be announced in October and will feature in online, social and on-air content across the channel.
Meet the hot young talent short listed:
Amarie Cassidy
Amarie is 19 and a self-proclaimed queen of pop culture and is always clued up about what's new in the entertainment world. As a blogger and YouTuber, she loves to cover events and is no stranger to the camera! Amarie is ready to bring some fun, flair and big hair to E!.
Barney Banks
At 24 years old, Barney has been fortunate enough to travel much of the world thanks to TV, Fashion and Music. Presenting has always been a dream for Barney, having always aspired to be in front of the camera, and this opportunity has taken him one step closer to fulfilling his dream.
Kerri Ingram-Walpole
Kerri is 26 and currently works in social media. She has a journalism and media degree but working in TV has always been her ultimate goal. She loves finding out all the showbiz gossip, news and fashion so being an E! host would be a dream come true!
Sabrina Chakici
At 28 years old, Sabrina Chakici is a self-confessed E! fanatic who's dream is to become the pop culture Queen on your screens. She is sure to make you giggle with her cheeky and confident presenting and with her amazing Fashion and Travel blog 'Clutch & Carry-on' she definitely knows her stuff when it comes to style!
Stefanie Jones
Stefanie Jones is 28 and is a model and presenter.  You can regularly catch her backstage at London Fashion Week reviewing the latest beauty and fashion looks. Stefanie is a lover of all things A-lister including the latest showbiz news and red carpet trends. You can also catch her weekly on Hoxton Radio's #Fashcast.
Warren Atkins
Warren is 28 and works in the media industry, spending most of his time casting crazy characters for different TV shows! He's been a Producer on The Voice UK for the last three series looking after the celebrity coaches, he's what you call a full time 'schmoozer'.  Enough said I think! He's a huge gym bunny in his spare time and loves a good cocktail party!
Stay tuned to EOnline for further updates!