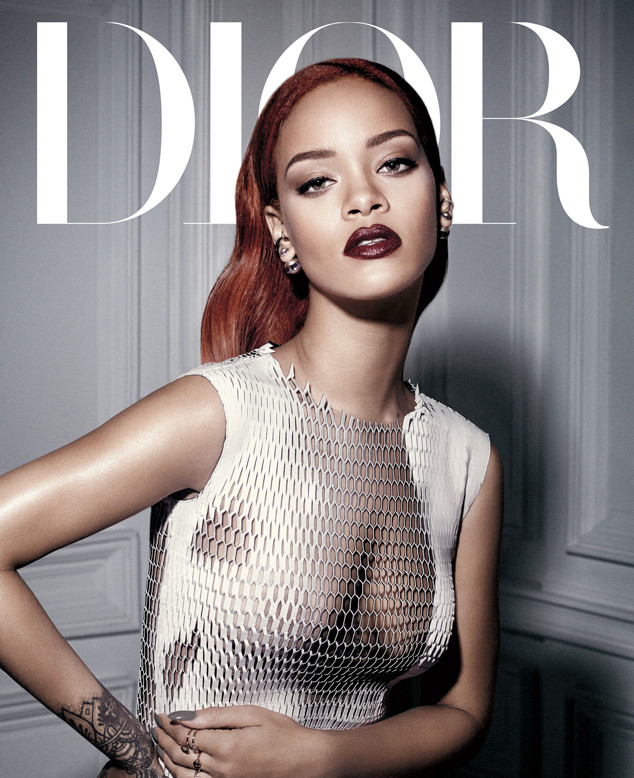 Courtesy Dior/CRAIG MCDEAN
Sneak peek? More like sneak peep.
Rihanna's new Dior magazine spread leaves little to the imagination, showcasing the 27-year-old pop star in a see-through perforated mesh dress. No bra, no panties—just Bad Girl RiRi's flawless bod underneath (and what we imagine to be a little photo blurring magic, as there are no blatant nip-slips in the frames). The magazine has yet to hit stands, but happily for us, we're getting an early look at the pics in the fall "Le Bestiaire" (AKA bestiary) themed issue.
As the woman who dropped jaws around the world when she donned a full-on naked dress to the 2014 CFDA Awards, Rihanna has a clear affinity for posing in risqué ensembles. Which makes this latest editorial outfit, well, one of her more conservative (but still ultra-sexy) fashion statements thus far. Sporting her berry-red locks, RiRi slips into several elongated poses for photographer Craig McDean, proving she's got the supermodel chops it takes to rep Dior.