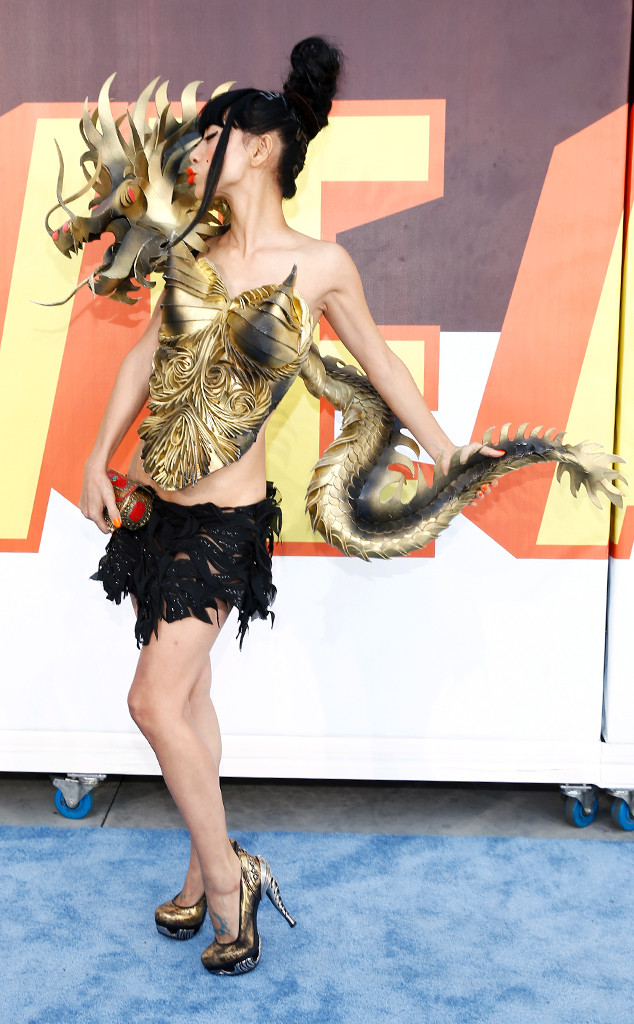 Rich Polk/Getty Images for MTV
Sunday night marked the return of Game of Thrones and Daenerys Targaryen's general awesomeness, but somehow Bai Ling upstaged the Mother of Dragons at the MTV Movie Awards.
That's right, the Anna and the King actress managed to outdo Emilia Clarke's character by dressing as an actual dragon at the awards show. The 48-year-old wore a barely-there black mini skirt with a teeny black bra-styled top. But she made a real statement with her accessories: a 3D dragon head whose tail scaled all the way down her back.
From the side, it looks like Ling is only wearing a bra, but when you look at her from the front it's clear the dragon comes across her chest and is even makes up the front part of her top.
It has to be some sort of homage to Björk's swan dress that she wore to the Oscars back in 2001, or maybe it really is in honor of Game of Thrones. Regardless, Björk's dress seems relatively tame compared to this weapon of an ensemble. One wrong turn and this dragon could take out a couple of people, including the Chinese-American actress, while Björk's look was much softer.