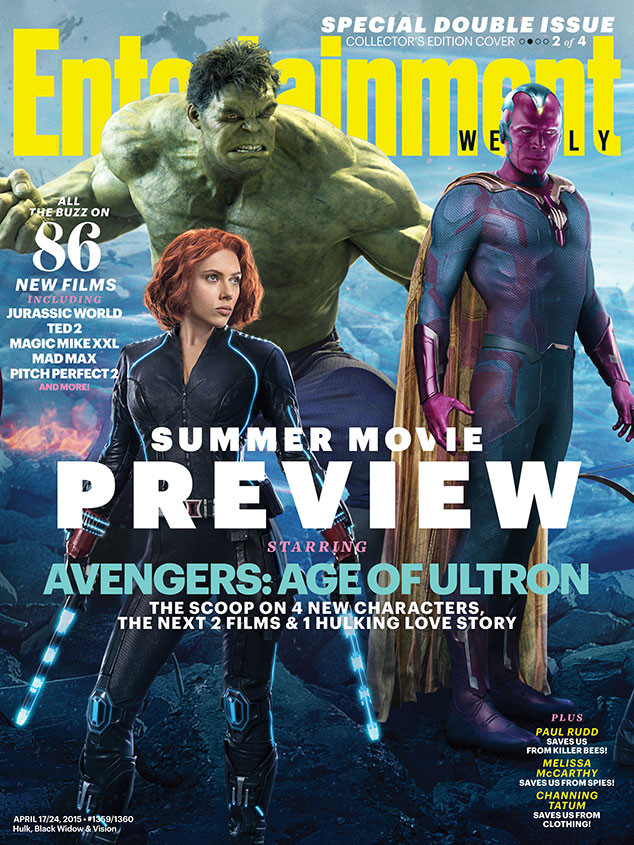 Entertainment Weekly
Entertainment Weekly is giving Avengers: Age of Ultron fans a first look at Paul Bettany as The Vision, and what a vision he is! The character will be introduced in the Marvel Studios movie, in theaters May 1. Until this week, only a close-up of the character's face had been featured in the superhero film's trailers.
The Vision appears on one of four collector's edition covers from the magazine's Apr. 17/25, 2015 double issue. He shares the honor with Black Widow (Scarlett Johansson) and The Hulk (Mark Ruffalo).
Iron Man (Robert Downey Jr.), Captain America (Chris Evans) and Thor (Chris Hemsworth) team up for another cover, while another features Hawkeye (Jeremy Renner), Scarlet Witch (Elizabeth Olsen) and Quicksilver (Aaron Taylor-Johnson). Ultron (James Spader) is the only character to receive a solo cover. Some characters are notably M.I.A. After all, where's Nick Fury (Samuel L. Jackson)?
Marvel Studios also tweeted a character poster for The Vision on Thursday.