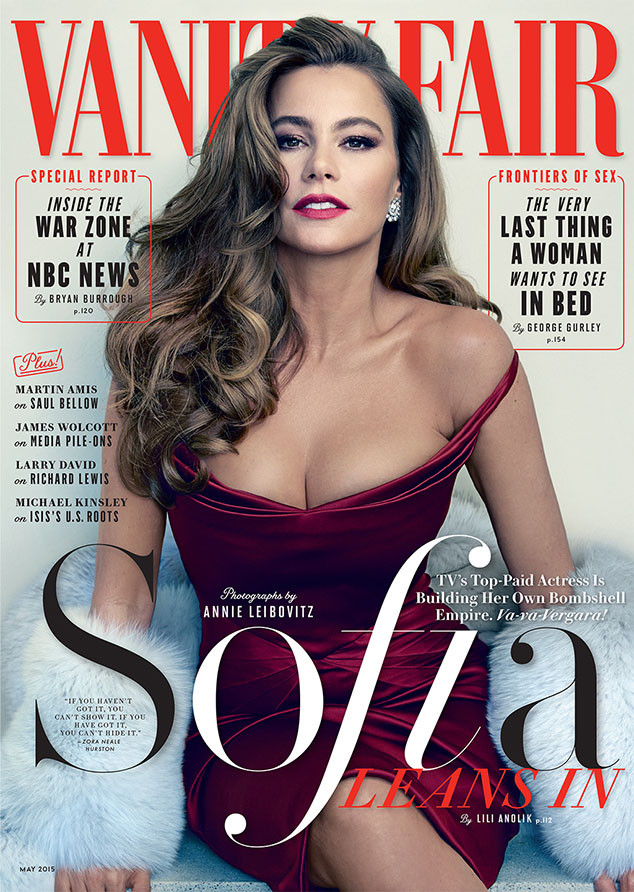 Annie Leibovitz
Is there anyone sexier than Sofia Vergara?
The Hot Pursuit star looks hotter than ever on the cover of Vanity Fair's May issue. Vergara strikes a sultry pose while wearing a low-cut crimson dress that accentuates her famous cleavage. "My boobs are, like, huge," Vergara says. "My whole life, buying a bra was a nightmare. What I used to do when I moved to L.A., I found places like Frederick's of Hollywood that make bras for streetwalkers."
Vergara clarifies that she's not talking about "hookers," saying, "I can't think of the word." After a moment, she says, "You know...dancers...Strippers. Skinny girls with gigantic boobs."
Sometimes, she envies strippers. "Believe me, I wish I had fake boobs. I lay down and they completely go down like all the way, like here," says Vergara, who is endowed with natural 32F breasts. "It's not fun."
Vergara doesn't mind talking about her assets in interviews, any why should she? What she does mind, however, is when fashion critics chastise her for wearing similar silhouettes. "Sometimes you read in the press like, 'Oh, Sofía is wearing again the same shape dress,' and I want to answer them and say, 'What the f--k do you want me to wear?'" she complains. "Obviously there's a reason why that's what I go for."
Vergara knows what her brand is, and embracing her sexuality is a big part of it.