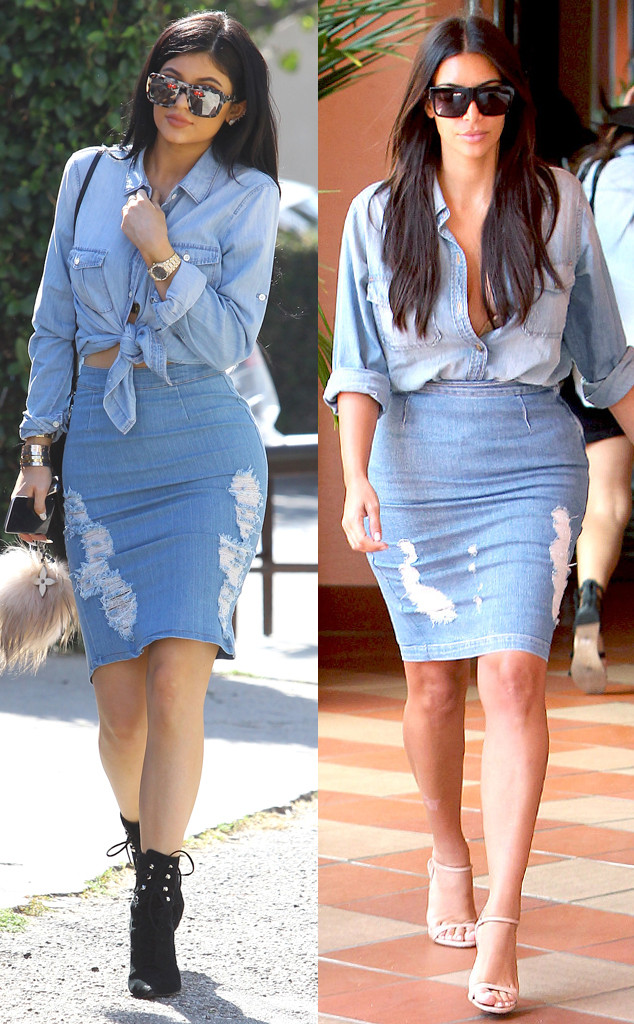 RMBI/FOCU/AKM-GSI
It's a denim-on-denim on sister act!
Kylie Jenner has been stepping out in some super-hot street style looks lately, including the $50 (you read that right) crimson H&M mini she sported out in Los Angeles on March 30. And yesterday, the star stepped out in a look that was, well, very familiar. Turns out that we spotted the sexy denim skirt and top ensemble on Kylie's big sis Kim Kardashian back in August.
The sisters' matchy-matchy look features a chambray button-down (Kim wore hers tucked in, while Kylie tied her shirt for an ultra-cute crop top effect), curve-hugging Frame Denim pencil skirt and square-shaped sunnies. Kim wore her get-up with nude strappy sandals, while Kylie opted for a more rocker-chic black leather boot.
FYI: Kim and Kylie aren't the only celeb sisters who like to trade looks—Solange Knowles and Beyoncé sort of specialize in it.
Honestly, we're not surprised for this double take-inducing style moment—if you're big sister was Kim Kardashian, wouldn't you be raiding her closet too?