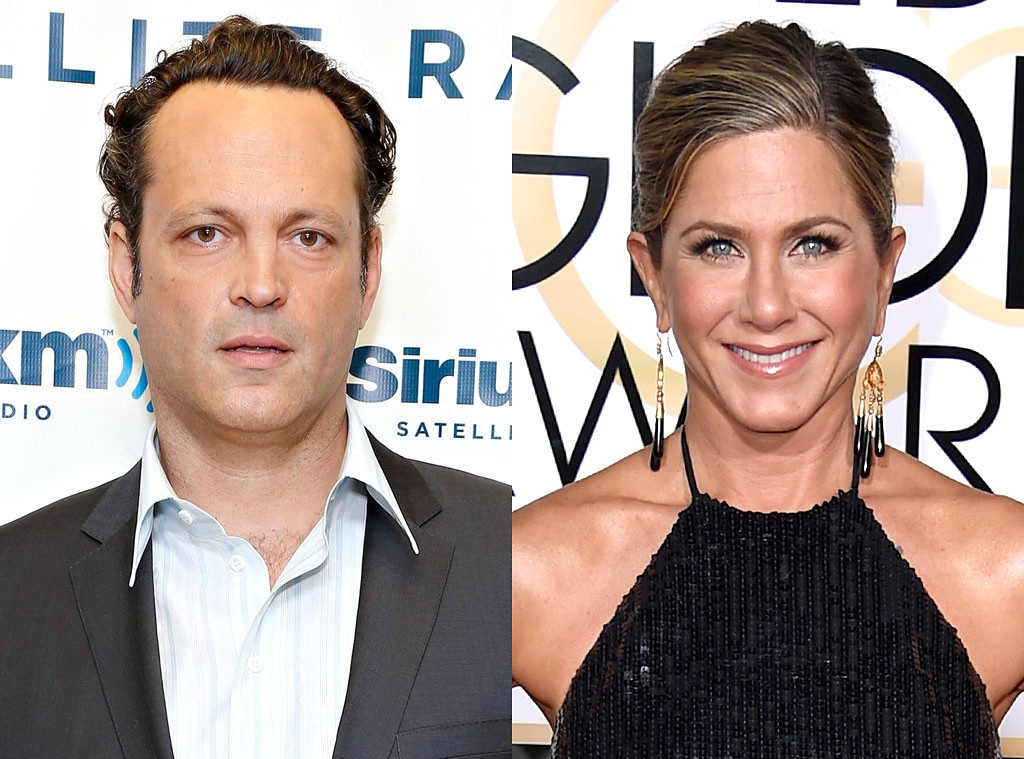 Getty Images
Vince Vaughn was not keen on the extra attention he received when he dated Jennifer Aniston.
Speaking to Playboy magazine in an interview posted this week, the 44-year-old Swingers, Wedding Crashers and True Detective season 2 actor opened up publicly for the first time about his one-year relationship with the 46-year-old Friends and Cake actress, his co-star in the 2006 movie The Breakup.
"You know, she's great," Vaughn told Playboy. "For me personally—and I think most well-known actors who are together feel this way—I never enjoyed the paparazzi side of it."
He and Aniston, one of the most popular actresses in the world and a tabloid favorite, began dating while filming the movie in 2005, the year she filed for divorce from Brad Pitt. By December 2006, Vaughn and Aniston announced that they had called it quits. Their reps said at the time that the actors "continue to be good friends."
"You like someone and you're spending time with them; that's separate and that was all fine," Vaughn said. "But I really spent most of that time finding ways not to be drawn into the attention. I think lying low and not talking about it put me in a good position later, because I just wasn't part of anything."
After splitting with the actor, Aniston went on to date model Paul Sculfor and singer John Mayer. In 2011, she began a relationship with The Leftovers actor Justin Theroux, her co-star in Wanderlust. The two have been engaged since April 2012.
In 2008, the actress told Vogue magazine that she calls Vaughn  her "defibrillator" and that he "literally" brought her "back to life" when they began dating.
"He was lovely and fun and perfect for the time we had together," she added.
Vaughn married Kyla Webber in 2010 and the two share a 4-year-old daughter, Locklyn, and a 1-year-old son, Vernon.
"I waited until I was a little older, and I'm glad," he told Playboy, regarding marriage. "I just hadn't matured in that area. A lot of people think, 'Oh, I've got to focus on my career.' And then you wake up and go, 'Oh goodness, I forgot about the rest of my life.'"
"Marriage is terrific, but it's the hardest thing I think you'll ever do," he added. "You have to really work at it and want it. I got to an age when it was something that seemed exciting. I wanted kids and a family, but I wouldn't have at 30. You know how it is. You've been making decisions about what you're going to do on your own. Suddenly you're making those decisions with somebody else. It's a much different journey."