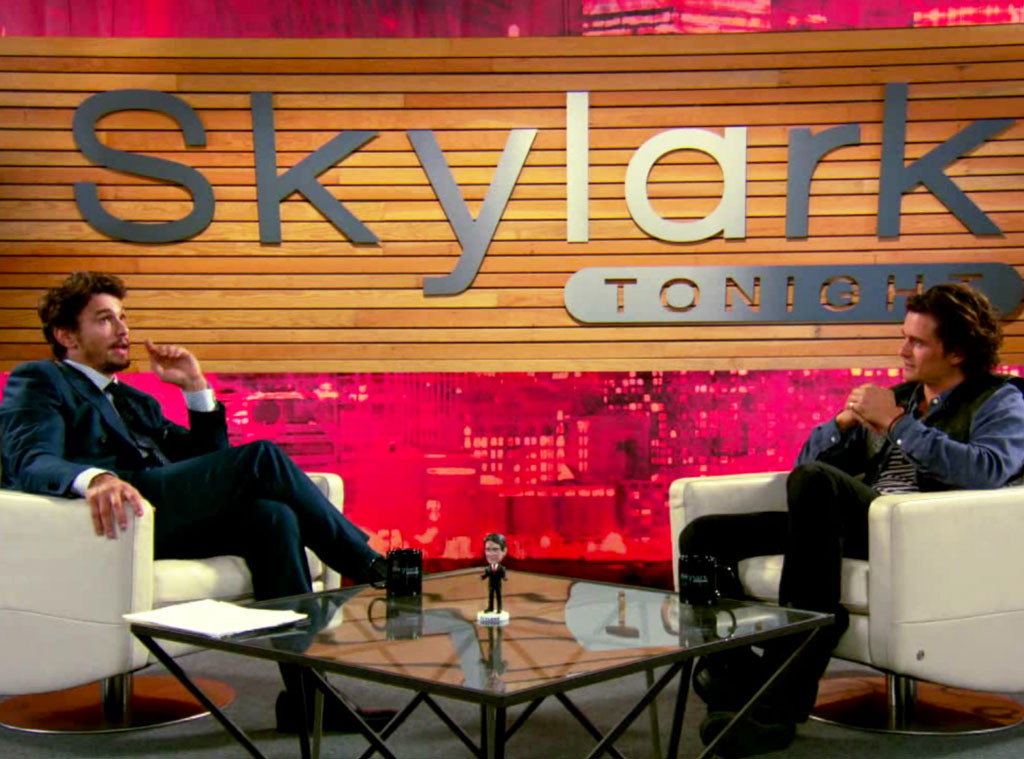 E!
James Franco is an actor, director, writer, painter and more.
And now he's a talk show host—well, at least pretending to be one in The Interview (in theaters on Dec. 25), his new comedy co-starring Seth Rogen.
Franco plays Dave Skylark, a talk show host who is recruited along with his producer (Rogen) by the CIA to assassinate Kim Jong-un.
And only we have the exclusive first look at a hilarious video from SkylarkTonight.com that Franco shot while filming the movie. He appears in the clip as his Skylark character, who is interviewing the real Orlando Bloom on his talk show, Skylark Tonight.
Not only does Skylark start things off by incorrectly referring to the Brit actor as a "Sir," but he also suggests Viggo Mortensen be knighted because in The Lord of the Rings "that dude's got an accent, carries a sword and he f--ks things up."
Bloom explains that the queen cannot grant Mortensen a knighthood because, well, he's not even British.
Bloom desperately tries to get the clueless Skylark to talk about his charity, but he can't seem to rein him in.
"Does every movie have a book?" Skylark asks. "Is there a book for Pirates of the Caribbean I, II and III?"
But that's enough with us telling you about the video. You can check out the whole hysterical clip below. Get ready to laugh!