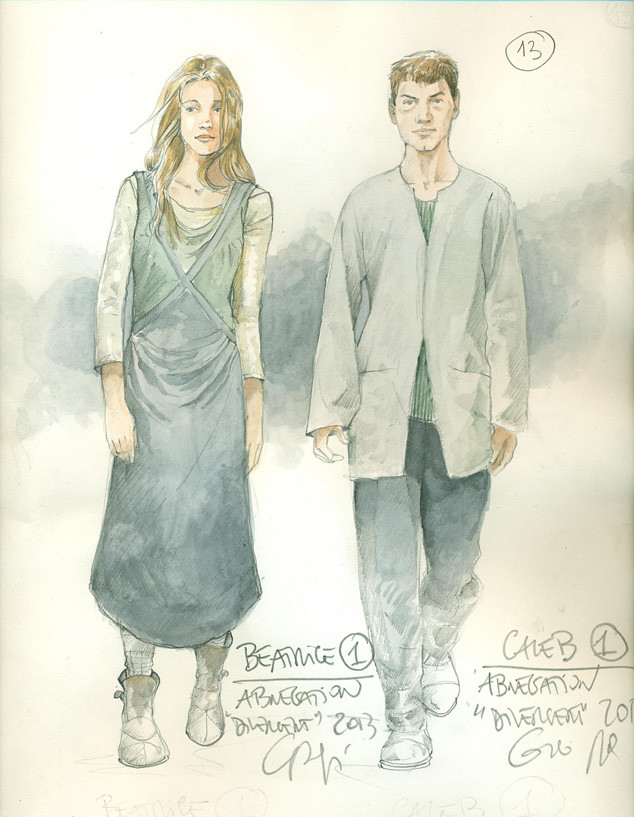 Carlo Poggioli
We've had our calendars marked for months, and March 21 pretty much can't come soon enough.
Why, you ask? It's the release date for the gotta-see-it movie Divergent, staring Shailene Woodley, Theo James and Kate Winslet. We devoured the book series, and we've been waiting for months for the movie to finally hit theaters.
But in the meantime, we've got something that we're pretty sure will tide you over: an exclusive sneak peek at the costumes! We caught up with renowned costume designer Carlo Poggioli, who has been in the industry for decades and worked on movies like Romeo and Juliet staring Hailee Steinfeld and The Zero Theorem staring Christoph Waltz.
Carlo gave us a special look at the costume sketches for all of Divergent's different factions and the thoughts behind each look.
From Abnegation to Dauntless, keep reading to see all the costumes!
Abnegation: "The Abnegation faction puts other peoples needs in front of their own with no hesitation," explains Carlo. "The colors they wear are shades of grey, the fabrics are all natural fibers and very plain, like wool and cottons. And the cut of the clothes is very simple and rough," he says. "Tris [played by Shailene], is born into Abnegation, and so she wears clumsy clothes. And throughout the story she becomes more sensual and confident after she hones her great abilities in the Dauntless faction, which is also reflected in her costume transformation."