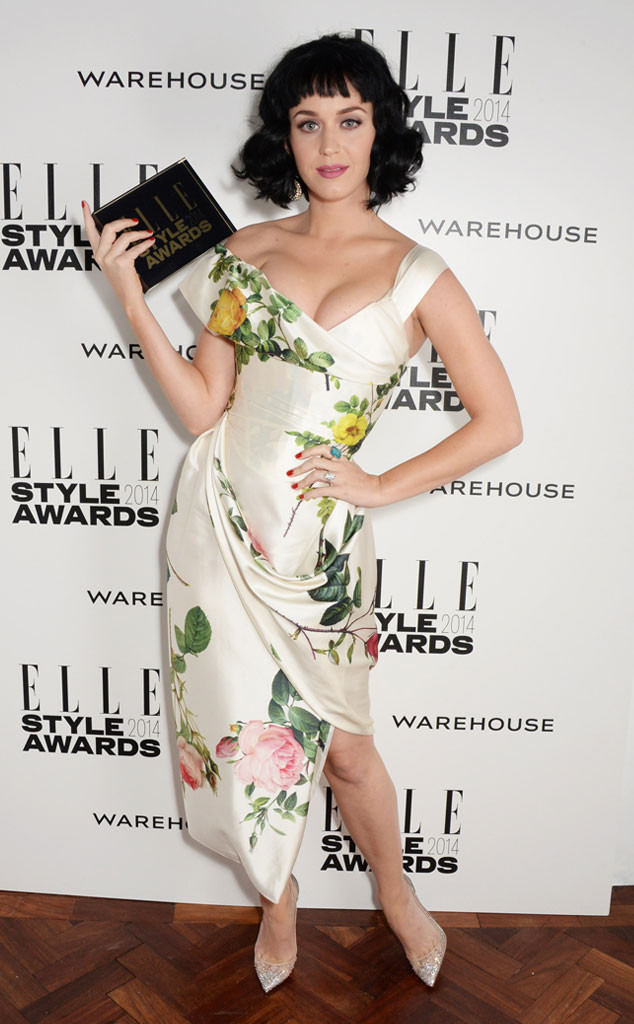 David M. Benett/Getty Images
Katy Perry did catch the bouquet at the Grammys...
The pop superstar was among the many celebrities striking poses on the red carpet at the Elle Style Awards tonight in London. But not all of them were wearing massive diamond rings on that finger.
Along with an ivory and rose-print Vivienne Westwood silk dress that showed off her bountiful cleavage, Elle's pick for Woman of the Year was sporting quite the rock on her left hand, a rather traditional-looking piece of jewelry when compared with the turquoise cocktail ring she had on her index finger.
The emerald-cut stone also really popped against her fair skin and bright-red manicure.
David M. Benett/Getty Images
Her rep was unavailable for comment, and things are all quiet on the Twitter front.
But while this certainly isn't the first time that the "Dark Horse" singer has worn a bauble where a wedding or engagement ring traditionally goes, this is the first time her chosen diamond accessory been that big.
Of course, stars and their stylists do have access (quite literally at their fingertips) to quite the treasure trove when it comes to getting jewelry ASAP for special occasions, so this could just be yet another red-carpet statement piece. (The statement being, in this case, "Fooled you!") 
A source told E! News in November that Mayer popping the question was "inevitable," and that all of their nearest and dearest were really rooting for them to get engaged.
"They are so perfect together," the insider added.
Perry enjoyed a Valentine's Day dinner date with Mayer in Los Angeles on Friday (a source told us they remained unbetrothed when we asked about the gold ring she was wearing) and then the couple were spotted strolling in Hollywood on Sunday.
She was alone—minus her entourage and a cute furry teddy bear, that is—when she touched down at London's Heathrow Airport earlier today.
Perry is due to perform at the 2014 Brit Awards tomorrow.
Also among the beauties at the Elle Style Awards tonight were Emma Watson, Lily Allen, Cara Delevingne and sister Poppy, Rita Ora, Ellie Goulding, Jessie J, Suki Waterhouse (sans Bradley Cooper), a hatless Pharrell Williams and wife Helen Lasichanh, Karolina Kurkova and Olga Kurylenko.