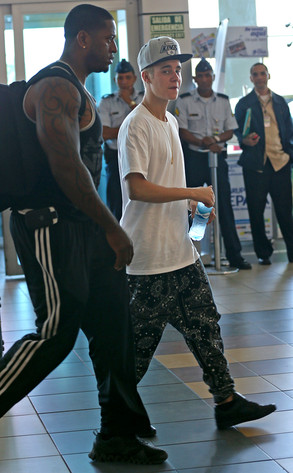 Splash News
Justin Bieber has left Panama!
The 19-year-old pop star, who was busted for a DUI while drag racing in Miami last week before heading to Panama for a few days of rest and relaxation, has left the Central American country and is on a plane home to L.A. with manager Scooter Braun, a source confirms to E! News. Bieber was also snapped rushing through the Panama International Airport earlier today surrounded by his entourage. The Biebs flashed a smirk while being snapped by photogs in the terminal.
In addition to the travel news, a source tells us that Bieber isn't letting all the negative media attention get him down. "Justin is doing OK right now," a source tells E! News exclusively. "He's with friends and family. That's what is most important now, being surrounded by family and his closest friends."
Additionally, another source tells E! News that Bieber's mom, Pattie Mallette, is coping the best she can given the recent circumstances.