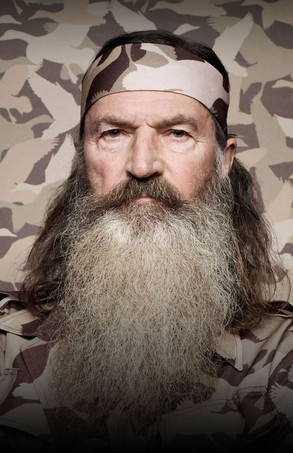 A&E
It was quite an eventful week for the Robertson family, specifically Phil Robertson.
The star of the A&E hit series Duck Dynasty ignited a controversy for comments he made during a GQ interview, in which he grouped homosexuality with bestiality as deviant behavior.
"Start with homosexual behavior and just morph out from there. Bestiality, sleeping around with this woman and that woman and that woman and those men," he tells the magazine. Paraphrasing Corinthians, he says, "Don't be deceived. Neither the adulterers, the idolaters, the male prostitutes, the homosexual offenders, the greedy, the drunkards, the slanderers, the swindlers—they won't inherit the kingdom of God. Don't deceive yourself. It's not right."
Phil continues, "It seems like, to me, a vagina—as a man—would be more desirable than a man's anus. That's just me. I'm just thinking: There's more there! She's got more to offer. I mean, come on, dudes! You know what I'm saying? But hey, sin: It's not logical, my man. It's just not logical."
Shortly after the anti-gay remarks surfaced, the 67-year-old founder of the Duck Commander Co. was suspended from the reality show.