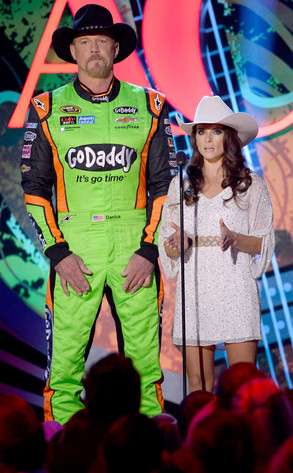 Ethan Miller/Getty Images
It was all about country music tonight, y'all!
The 2013 American Country Music Awards, hosted by Trace Adkins and Danica Patrick, aired live from Mandalay Bay Casino and Hotel in Las Vegas tonight, honoring some of the biggest and most successful names in country music along with celebrating some all-American tunes with smashing performances. The two MCs helped make the night's show memorable.
Patrick even appeared in a line of showgirls clad in sequins and flowing orange and pink plumage before making fun of the size of her own breasts by assuring fans there'd be no wardrobe malfunction. Shortly afterward, her partner in crime, Adkins, showed up in the showgirl outfit, providing lots of laughs from the audience.
LeAnn Rimes, Justin Moore, Randy Houser and Thomas Rhett were part of the lineup for tonight's musical entertainment, in addition to Brad Paisley, Lady Antebellum, Florida Georgia Line and Jake Owen.
And it proved to be an especially great night for some of handsome country fellas, specifically Luke Bryan, Florida Georgia Line and Blake Shelton.