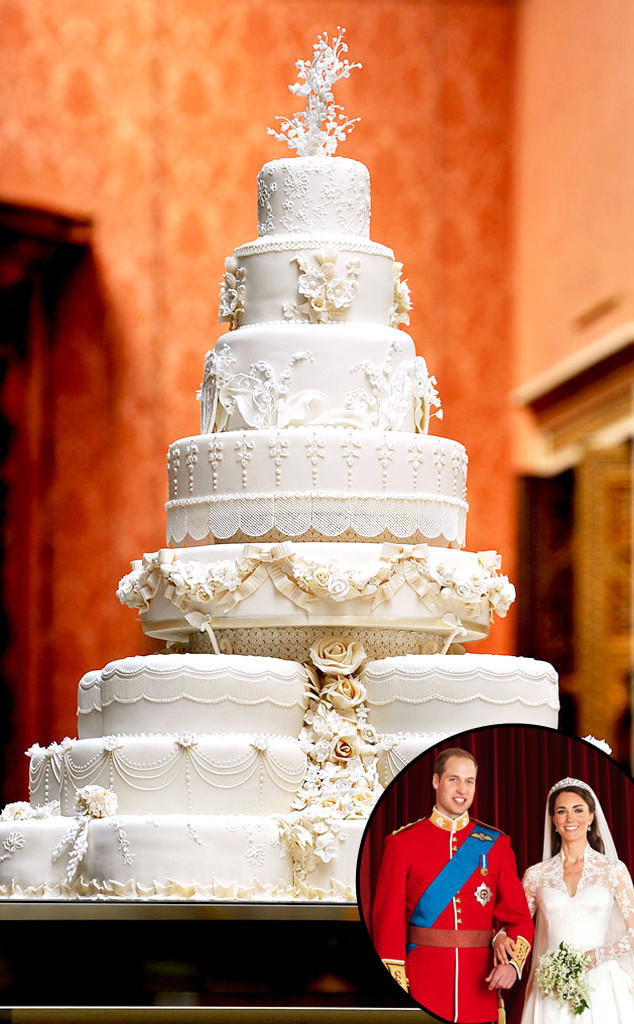 John Stillwell-WPA Pool/Getty Images, Hugo Burnand/Clarence House-WPA Pool/Getty Images
Looks like some people will still be digesting the royal wedding for years to come.
A piece of the grand wedding cake served on the occasion of Prince William and Kate Middleton becoming husband and wife in 2011 has sold at auction for $4,160.
That's for a slice, mind you, not the entire thing. Or even just a tier!
A rep for Julien's Auctions confirmed the selling price to E! News, but would not disclose any information about the buyer. But we can guess that he or she is sweet on the royals!
The traditional spiced fruit cake crafted by pastry chef Fiona Cairns that Kate and Will had at their wedding is actually the gift that keeps on giving in Britain—the couple served the top tier, one of three tiers that were preserved, following Prince George's christening.
"We were always told that the cake would be saved for the future so we did assume [it would be served for their firstborn child's christening]," Cairns told Hello! last month. "It's always been a tradition and that's why the cake was fruitcake, because after 30 months, it's even more delicious."
The eight-tier cake boasted raisins, walnuts, cherries, lemon, grated orange, and French brandy. The lace-reminiscent decorations were actually inspired by a piece of Kate's wedding gown.
But believe it or not, the auctioning of this 2 1/2-year-old confection doesn't even take the cake! A 66-year-old piece of the wedding cake from when William's grandmother, Queen Elizabeth II, married Prince Philip went on sale for the relative bargain price of 1,200 pounds in July.
Despite the fruit cake (tradition, as we said) being laced with rum and brandy, which contributed to it staying in one, er piece over the years, auctioneer Christie's recommended that no one actually try to party like it was 1947 and actually eat the thing.
Meanwhile, other items included in Julien Auctions' recent "Icons and Idols: Hollywood" sale included a Catherine Walker dress that belonged to Princess Diana that sold for $75,000; X-rays and medial records that showed Marilyn Monroe had plastic surgery to become the iconic beauty that she was, which sold for $25600; and memorabilia such as the original Lone Ranger mask worn by Clayton Moore and Julie Andrews' wedding gown from The Sound of Music.
—Reporting by Baker Machado