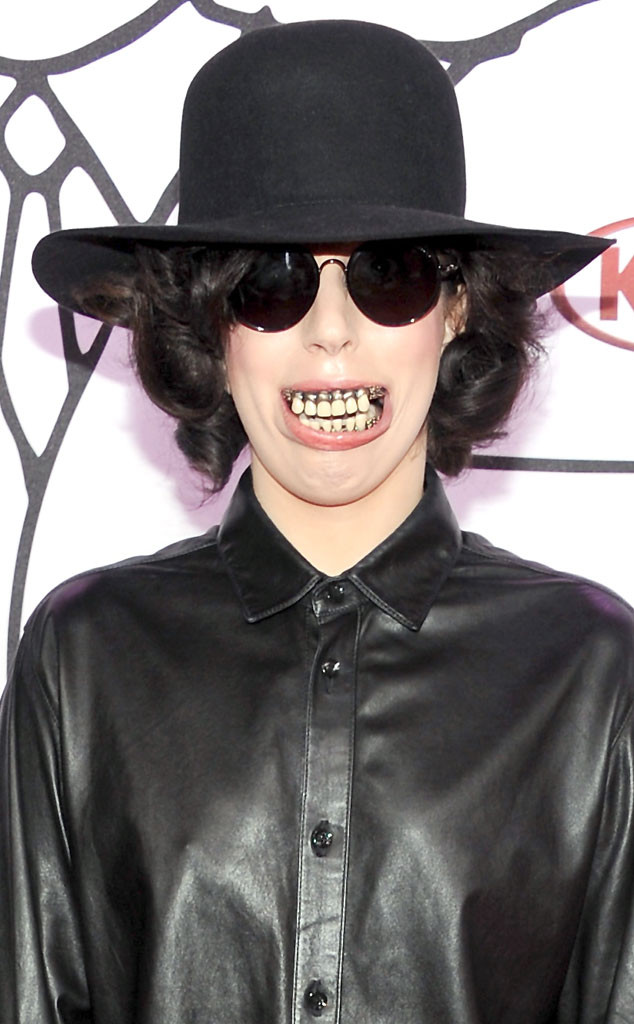 Dimitrios Kambouris/Getty Images
Lady Gaga might have a tough time getting applause with that smile.
Never one to stay inside the box, the "Applause" crooner popped up on the red carpet at the first ever YouTube Music Awards Sunday, flashing this yellow, decaying, faux grin.
The look, complete with a black top hat, black shades and a black leather shirtdress, was almost the spitting image of her bizarre cover art from her upcoming single "Dope" (except she didn't show her underwear this time).
The singer's attire was just the first of many antics of the night, with Macklemore and Ryan Lewis, Arcade Fire and Vanessa Hudgens all providing some entertaining tidbits before the awards show was done as well. 
So, what went down on the unscripted, live-streamed show?
The Spike Jonze-directed affair kicked off with a live music video of Arcade Fire's "Afterlife," starring Greta Gewig, followed by Rashida Jones handing hosts Jason Schwartzman and Reggie Watts two babies (for no apparent reason).
When Macklemore and Ryan Lewis hit the stage to accept the first red-and-white award of the night for YouTube Breakthrough, they couldn't help but chuckle at the little ones in the hosts' arms saying, "So do we get to keep the babies?"
As for other highlights of the night, Lady Gaga hit the stage barefoot, dressed up in a plaid top and a black trucker hat, and cried throughout her performance of "Dope." 
Vanessa Hudgens was also on hand for the event, starring in another live-music video experiment as a girl who ditches her beau in Avicii's "Wake Me Up."
And Eminem, who also performed, took home the show's artist of the year award. 
What did you think of the YouTube Awards?
Sound off in the comments!