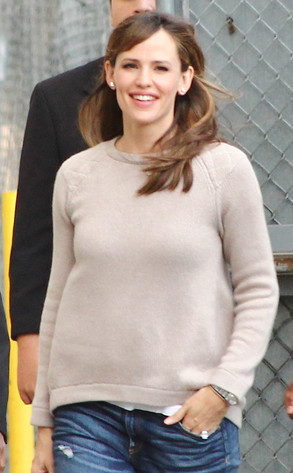 Cathy Gibson / Splash News
You can never have too much bling on your ring finger. But sometimes, a massive sparkler can be difficult to tuck away in, oh, your pocket.
That's exactly what happened to Jennifer Garner on Tuesday, Oct. 29 as she made her way to an appearance on Jimmy Kimmel Live! in Hollywood.
The mother of three was grinning as she was photographed, but if you look closely, she was struggling to put her left hand, complete with a 4.5 carat rock from hubby Ben Affleck, in her jean pocket.
Ring issues aside, it was a fun appearance for the 40-year-old actress, who joked with Jimmy Kimmel that she uses the "no disrespect to Ben Affleck" hashtag frequently.
This is of course referring to Kanye West's now infamous tweet during the epic feud between the rapper and late night host: "SHOULD I DO A SPOOF ABOUT YOUR FACE OR YOU F--KING BEN AFFLECK #NODISRESPECTTOBENAFFLECK and #ALLDISRESPECTTOJIMMYKIMMEL." The tweet has since been deleted and the pair worked out their differences on the show.