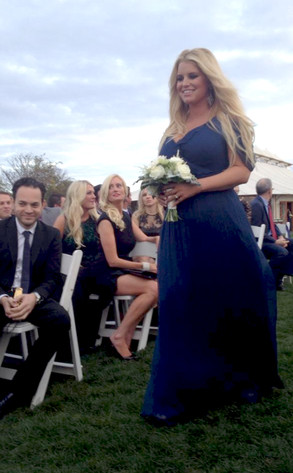 Facebook
You know what they say, always a bridesmaid but never a…wait, that's not right!
Jessica Simpson may have been in a number of bridal parties, but she's about to take her turn down the aisle as a bride in the near future.
In fact, she and fiancé Eric Johnson were just spotted scouting possible wedding locations alongside celebrity wedding planner Mindy Weiss in Italy.
But before the two exchange their vows, let's take a look back at some of Jessica's best bridesmaid moments.
She most recently was in her publicist's wedding in Newport, R.I., on Oct. 12.
Simpson, who was dressed in a chiffon navy blue gown that perfectly highlighted her post-baby bod, seemed ecstatic about watching her longtime pal tie the knot.