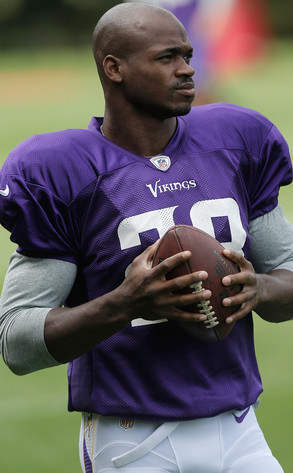 Harry Engels/Getty Images
Minnesota Vikings running back Adrian Peterson's 2-year-old son is currently in critical condition, according to a report by The Pioneer Press.
The local paper spoke with Adrian's father, Nelson Peterson, who confirmed that his grandson is receiving treatment at a South Dakota hospital after a "tragic" incident.
"All I can say is, we are asking for prayers and for respect for our family as we deal with this tragic situation," Nelson Peterson said in a brief phone interview, declining to further comment.
The 2-year-old—who, as The Pioneer Press reports, is not Adrian Jr., the son with whom the football star is often photographed— was seriously injured after an alleged beating from a man dating the mother of the child, according to TMZ.