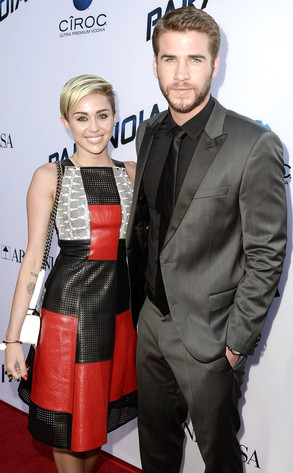 Kevin Winter/Getty Images
Did Miley Cyrus donate Liam Hemsworth's clothes to a thrift store following their big breakup?
Reports surfaced earlier today that the 20-year-old "Wrecking Ball" singer had given away her ex-fiancé's clothing to West Hollywood charity store Out of the Closet, which helps fight HIV and AIDS with its proceeds. According to the reports Cyrus sent an assistant to donate several pieces of clothing that the Aussie actor left behind at her place.
Allegedly among the items donated were two cashmere sweaters, one from Barneys and another from Ted Baker, Nike workout gear, a James Perse sweatshirt, black Hugo Boss dress pants and even underwear.