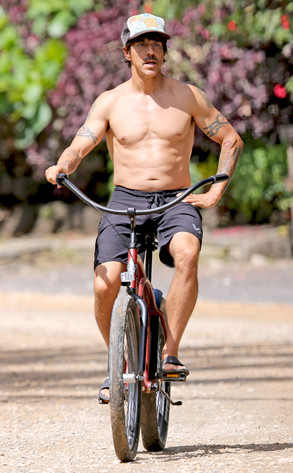 DaGreenTeam Splash News
It's hard to believe it from this shirtless pic, but Anthony Kiedis is 50-years-old.
The Red Hot Chili Peppers frontman was spotted on Sunday, Oct. 6, showing off his tattooed toned arms and muscular torso while on vacation in Hawaii. And while he is looking as fit as ever, he was in a slightly stressful situation. The rocker locked his keys in his car and started riding a bicycle to get some assistance. Luckily, he was finally able to open his car door with the help of a stranger.
Sans shirt, a mustached Kiedis wore black shorts, sandals and a colorful trucker hat.