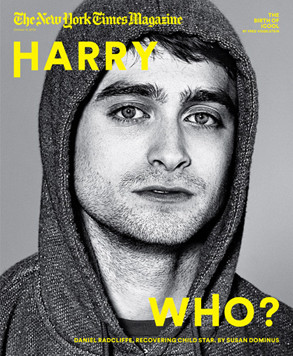 Richard Burbridge for The New York Times
The days of Harry Potter are long gone—at least in the eyes of Daniel Radcliffe.
While the franchise still has a solid legion of fans (and is even set for a spinoff) the 24-year-old star has worked incredibly hard to separate himself from the role that made him famous in an effort to prove he's both a serious and talented actor.
And despite having the utmost appreciation for his unique upbringing on the Harry Potter set, it's safe to say that he won't be returning to Hogwarts any time soon.
"I was struggling in vain to not come close to making a face that would make people think of Harry," he recalls of his first post-Potter film The Women in Black in a profile on the star in the New York Times Magazine, appropriately titled "Harry Who?"