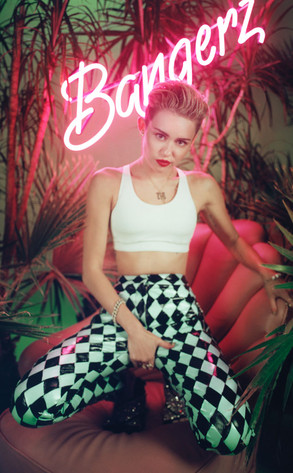 rcarecords
Miley Cyrus album has officially been streamed in full as of Monday, and it's definitely full of Bangerz.
But the 13-track compilation is also jam-packed with powerful messages that are most likely about her ex fiancé, Liam Hemsworth.
Did we say powerful? We meant extremely revealing and blunt. (How else would Miley do things?!)
Hold up, it's the edited version, Smilers, and Miley's not having it.
"You wouldn't edit art in a museum," she wrote on Twitter.
Let's take a look ourselves at some of the more candid lyrics throughout the album (none of these goodies were edited out of the livestream):
"Adore You": This ballad starts off lovey dovey, hinting at the Disney starlet's desire to marry the man in her life. It's actually one of few songs on Bangerz that shows the softer and more vulnerable side of the singer.
"You and me were meant to be in holy matrimony/God knew exactly what he was doing when he lead me to you."