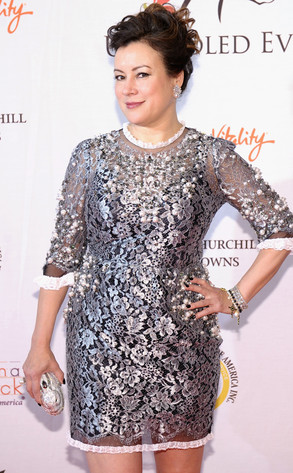 Michael Loccisano/Getty Images for York Sisters, LLC
Jennifer Tilly just can't stop toying with her fans.
In a recent interview with USA Today, the Oscar-nominated actress dished on her return to the cult horror franchise in the forthcoming Curse of Chucky.
"I mean, it was like coming home again," the curvy star told the paper. "The truth is out."
The series, which started with 1988's Child's Play, follows the continuing resurrection of everyone's favorite maniac killer doll. Tilly reprises her role as Tiffany, who as a human was the girlfriend of Charles Lee "Chucky" Ray (Brad Dourif), the murderer and voodoo practictioner who transfers his soul into the "Good Guy" figurine.
Of course, in the fourth installment, 1998's Bride of Chucky, she was turned into a doll herself (whose voice she subsequently provided) only to be resurrected in the body of, yes, Hollywood star Jennifer Tilly in 2004's Seed of Chucky.