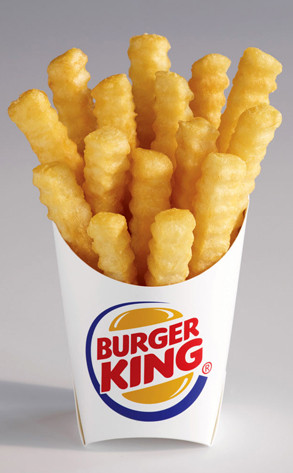 AP Photo/Burger King, Noel Barnhurst
Earlier this week, Burger King—the corporation, not that guy in the creepy plastic mask from their commercials—unveiled a new lower-fat French fry. Low­­­­­er-fat, not low-fat. Just pointing that out.
"Satisfries" are crinkle-cut fries coated in a thin layer of batter that absorbs less oil, B.K. says. A small serving contain 270 calories and 11 grams of fat, versus the regular fries' 340 calories and 15 grams of fat. They also cost about 30 cents more than regular fries.
Really: If you're pairing them with a Whopper, why bother?
"Satisfries" also contain 40 percent less fat and 30 percent fewer calories than McDonald's fries, "which are widely considered [be] the fast-food industry's most popular French fries." But does Micky D's also have the best French fries?
We weighed the pros and cons of the fries offered by some of the most popular fast food chains and now present them in our definitive, ranked list of the best and worst. Because science.