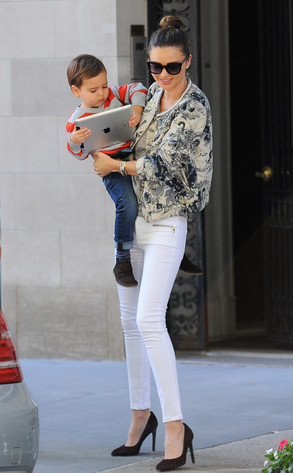 Splash News
It's okay to be jealous of Flynn Bloom's latest toy.
Orlando Bloom and Miranda Kerr's adorable two-year-old son was spotted, toted by mom, on Wednesday, Sept. 25 with a very enviable accessory: an iPad.
Flynn was seen playing with his tablet while he and his mom left their apartment in New York City.
The supermodel couldn't help but smile at her cute boy as he tapped on his Apple product with a focused expression.
I mean, how could you not smile?!
Both mom and son looked very chic for their fall outing. Flynn sported a red and gray striped sweater with blue jeans and Miranda wore a cream and black patterned jacket, tight white pants, black heels and sunglasses. The brunette beauty wore her hair in a topknot.