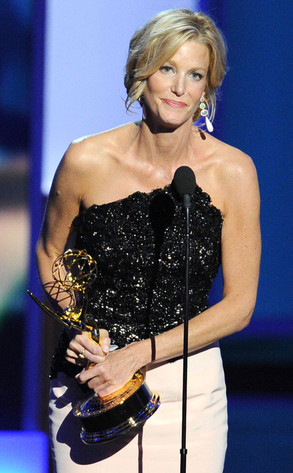 Kevin Winter/Getty Images
Take that, Skyler White haters!
Breaking Bad's Anna Gunn won her first Emmy Award in the Outstanding Supporting Actress in a Drama Series category on Sunday night for her work as Walter's (Bryan Cranston) polarizing wife on the AMC hit series.
On her way up to the podium to accept her award, Gunn received a few words of advice from Cranston, who has won three Emmys for Breaking Bad: "Bryan Cranston just told me to breathe," Gunn revealed on stage. Hey, that's what onscreen husbands/meth dealers are for!