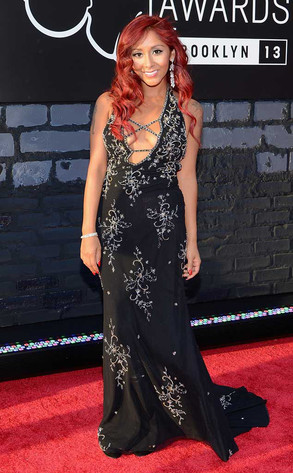 Larry Busacca/Getty Images for MTV
Snooki's total body makeover isn't complete. Though she's lost more than 40 pounds after giving birth to son Lorenzo in August 2012, the 25-year-old reality star is considering getting a breast lift. On the Sept. 20 episode of Bethenny, Snooki revealed she hates the way her chest looks after becoming a mom.
"My boobs are disgusting!" the Dancing With the Stars competitor admitted. "My boobs are hanging. My boobs got so big. You can't see now because I have a bra—I have a Victoria's Secret Wonder Bra on—but when I don't, they just sag and it's like skin, so I am thinking of getting a boob job maybe."
Snooki added, "I want to feel confident with my boobies and I don't."