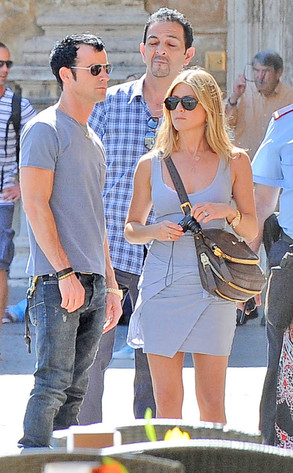 AKM-GSI
What the cluck? In the October issue of GQ, cover boy Justin Theroux reveals that one of the main reasons he and fiancé Jennifer Aniston moved into a $21 million Bel Air mansion last year was because it came with—get this—chickens. Yes, you heard that right. Chickens.
"We inherited the chickens from the previous owners," Theroux, a 42-year-old screenwriter, tells the mag. "They were like, 'Of course we'll get rid of the chickens,' and we said, 'Are you crazy? Don't get rid of the chickens. That's half the reason we wanted this place.'"
During a July 31 appearance on E!'s Chelsea Lately, Aniston, 44, joked that she's not "raising" the feathered farm animals so much as she is "keeping them alive."