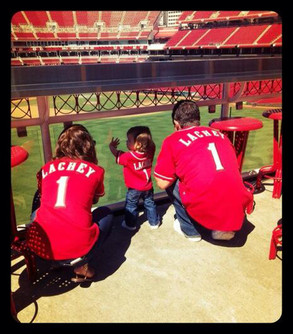 Twitter
It looks like Nick Lachey and Vanessa Lachey's son, Camden, is following in their baseball fanatic footsteps!
The 32-year-old actress tweeted an adorable family photo over the weekend of her, Nick and their 1-year-old son wearing matching Cincinnati Reds baseball jerseys while watching a game at Cincinnati's Great American Ball Park.
"Cam's 1st Birthday in Cincy was a success!" she wrote. "Beautiful day, lots of sweets, and so much Love! #TimeFlies." In the pic, the trio model their jerseys, which all read "Lachey 1," while looking down at the baseball field from their seats.