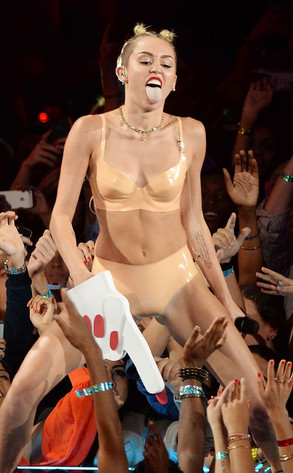 Theo Wargo/WireImage
Who says people don't have any free time anymore?
Just because Miley Cyrus' now-iconic performance with Robin Thicke at the 2013 MTV Video Music Awards didn't feature a visible nipple or an audible F-word doesn't mean offended viewers didn't bombard the Federal Communications Commission with concerns about what they were witnessing on their screens.
No matter that the FCC, which was quick to levy a hefty fine (that was ultimately successfully appealed) on CBS after Janet Jackson's "wardrobe malfunction" during Super Bowl XXXVIII, doesn't have the authority to punlish cable networks—the roughly 150 people who filed entertainingly descriptive indecency complaints presumably didn't know that.