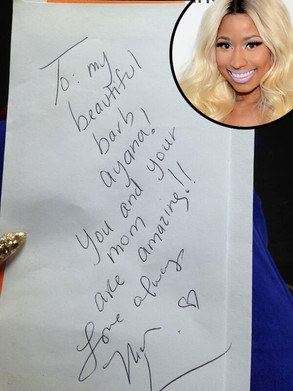 Twitter, Getty Images
Nicki Minaj's fans, known as Barbz, are known to support the rapper's music career and business ventures. They even come in handy to help the star avoid a traffic ticket.
It turns out that the singer was facing a potential ticket from a traffic cop, but it turns out the police officer's daughter is a huge admirer of Minaj so the female officer decided to let it slide. But the celeb was so thankful that she made sure to give her fan a special thank-you note that Nicki shared on Twitter.
"Her mother is a traffic cop. She was about to give us a tkt. ;)," she wrote with the photo.
The note said, "To my beautiful barb Ayanna! You and your mom are amazing!! Love always, Nicki." (Let's hope Ayanna's mom doesn't get in any hot water over this.)