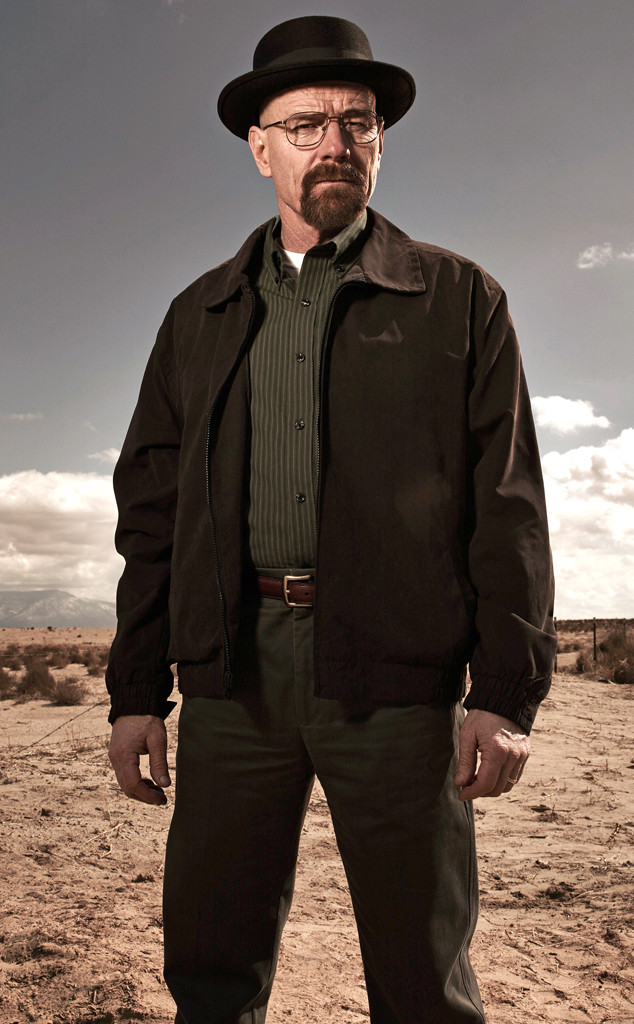 Frank Ockenfels 3/AMC
WARNING: There are MAJOR spoilers ahead from Sunday night's all-new episode of Breaking Bad! Read at your own risk.
Confession: We're starting to have health problems because each episode of Breaking Bad leaves us gasping for air and clutching our hearts.
We're getting closer and closer to the series finale of the AMC smash hit and even though we're heartbroken to see our beloved drama go, we're cherishing these last few episodes. This week's episode "To'hajiilee," was a whirlwind of bullets, betrayals, and not-so blue meth.
To help us prepare for our finale goodbye, star Bryan Cranston stopped by the weekly Breaking Bad after-show, Talking Bad to discuss this week's mind-blowing episode, reflect on what it has meant to play Walter White for the past six years, and to tease what's ahead in the next few episodes. 
In the midst of this week's drama and desperation, Walt found out that Jesse (Aaron Paul) teamed up with Hank (Dean Norris) to betray his trust and get him to confess nearly every single horrible thing he has done over the past five seasons. The episode And Cranston would like to share exactly how he feels about Jesse's backstabbing behavior.
"He's a rat! He broke the code," Cranston tells Talking Bad's Chris Hardwick. "We fully embraced our criminality and all of the sudden that's the one thing that you don't do, you don't rat and he ratted, he's a filthy little rat."
Cranston explains that Walt's emotions have become his downfall over these past few episodes. "Walt has changed. He used to be so methodically and had a scientific mind and now he's much more emotional." He continues, "This experience in these last two years of his life have created an emotional being which he was never really open to, so he's impulsive, hence the shooting of Mike by being insulted by that. The leaving of the book out, it was sloppy and it was careless and that's what happened to him. It's one of the ramifications of experiencing this whole trauma."
The Emmy-award winning actor says it will be difficult to fully let go of Walter White when the series ends in a few weeks. "This has been the ultimate role for me I can't imagine a role that can match this. This has been an amazing journey for me, "Cranston says. "It was very sad to let it go and sometimes you have to just release the grip and move on and that's what we have to do."
When asked how Cranston feels about Walt in these last few episodes, the Breaking Bad star says he has never really been against his character's actions, no matter how brutal or maniacal they have been. "I am him, he is me." The 57-year-old actor explains, "For six years I haven't attempted to be so objective to it because I'm playing him and when you're playing a character you don't want to judge, you just want to live it."
Looking ahead to the final three episodes, Cranston says that true Breaking Bad fans are going to get an absolute thrill out of the series finale. The actor tells his fans: "I thank you so much. It's near the end but I can tell you that you won't be disappointed. As we saw here [in this week's episode] there's a big gun fight, it's fantastic, it continues on in the next episode and then two more after that it ends in a very unapologetic, pure Breaking Bad way."
Don't miss an all-new episode of Breaking Bad next Sunday at 9 p.m. on AMC!
Want more Breaking Bad? Of course you do. Fortunately, Sony Pictures Home Entertainment is releasing the complete series on Blu-Ray Nov. 26. And since presentation is everything, the set will come inside a replica black barrel and include more than two hours of unseen footage as well as a documentary on the series.