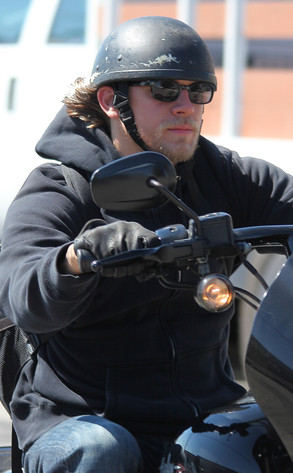 London Entertainment /Splash
Swoon.
While we wait for Charlie Hunnam to strip down and get naked from his role as Christian Grey in the upcoming Fifty Shades of Grey movie, we'll have to enjoy hot photos like this of him looking badass on the set of Sons of Anarchy.
The 33-year-old actor hopped on his motorcycle to shoot some SOA scenes yesterday in L.A. Hunnam looked sexy with a scruffy beard and long hair while sporting his character's signature helmet and dark biker clothes.
In anticipation of Fifty Shades of Grey, let's take a look at some of Hunnam's hottest photos, including his badass biker looks, plenty of buff shirtless shots and many more sexy red carpet pics!